Historical Images of Porter County
Suman Cornet Band
Suman, Indiana

Date: Circa 1910
Source Type: Postcard
Publisher, Printer, Photographer: AZO
Postmark: None
Collection: Steven R. Shook
Remark: An article published on February 3, 1959, in The Vidette-Messenger , Valparaiso, Porter County, Indiana [Volume 32, Number 178, Pages 1 and 6], provides detailed information concerning General Isaac C. B. Suman, founder of the town of Suman in Jackson Township. In this article it is written that "When the [Baltimore & Ohio] railroad came in 1872 Gen. Suman established a townsite which prospered for a time. Gen. Suman was postmaster there for several years, and he promoted a number of civic enterprises, not the least of which was the Suman Cornet Band, which in those days, was a necessary adjunct to every nearby celebration."

The following appears in the March 3, 1910, issue of The Chesterton Tribune, Chesterton, Porter County, Indiana [Volume 26, Number 49, Page 5, Column 5]: "The Suman Cornet Band will give a box social at Jackson Center church, Saturday evening, March 5, 1910, for the purpose of raising money towards buying new uniforms. All are cordially invited to attend."
The effort to raise fund for new uniforms must have been successful. In the May 12, 1910, issue of The Chesterton Tribune [Volume 27, Number 7, Page 2, Column 2] it is stated: "The Suman band is busy getting ready for Decoration day. They have their new uniforms and look fine."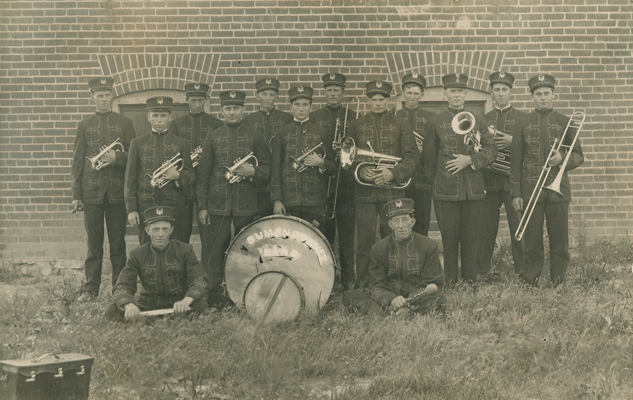 Return to Suman Images Index
Return to Porter County Photographs & Historical Images

Please contact the Porter County GenWeb Coordinator if
you can provide any additional information concerning this image.