Historical Images of Porter County
Digging Mastodon Remains, Fall 1949
Porter Township, Porter County, Indiana

Date: Fall 1949
Source Type: Photographic Negative
Publisher, Printer, Photographer: UPI or AP news service
Postmark: Not applicable
Collection: Steven R. Shook
Remark: In April of 1949, farmer Myron Benedict unearthed parts of a skeleton, teeth, and tusks of a mastodon (Mammut americanum) while plowing a portion of his property that had never been previously tilled. Specifically, the remains were found along the eastern boundary of the the south one-half of the southwest quarter of Section 3 of Township 34 North, Range 6 West, which was the boundary between the properties of Myron Benedict and his neighbor C. J. Spindler. Several articles were written concerning the discovery in the local newspaper, The Vidette-Messenger, published in Valparaiso; the initial report of the discovery was published in the April 26, 1949, issue of the newspaper (Volume 22, Number 249, Page 1, Column 5). Digging for the mastodon bones was delayed till the fall of 1949 so that the soil could dry out and ease the work involved in recovery and preservation efforts. It is believed that the tusk is now in the possession of the Porter County Museum in Valparaiso.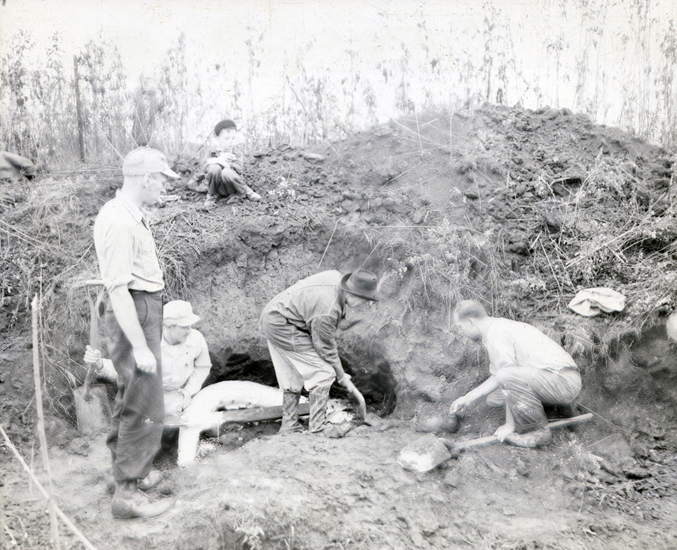 Return to Porter Township Images Index
Return to Porter County Photographs & Historical Images

Please contact the Porter County GenWeb Coordinator if
you can provide any additional information concerning this image.

Image and related text prepared by Steven R. Shook