Historical Images of Porter County
C. A. Englebeck and Mechanic Tarkington at Cobe Cup
Nation, Mascot Pig
June 19, 1909
Porter County - General

Date: June 19, 1909
Source Type: Postcard
Publisher, Printer, Photographer: Charles W. Beam
Postmark: None
Collection: Steven R. Shook
Remark: The reverse of this real photo postcard indicates that it was published by Charles W. Beam of Valparaiso, Indiana. Beam was a publisher of postcards in Valparaiso from approximately 1908 to 1917. It is believed that the photograph is of C. A. Englebeck, an entrant in the Cobe Trophy Race (Cobe Cupe) that took place in Lake County, Indiana, on June 19, 1909, and sponsored by the Chicago Automobile Club and named in honor of Ira Cobe, then president of the club.

The race circuit was 23.6 miles long, starting in Crown Point and proceeding to Cedar Lake and then on to Lowell, The course the headed back to Crown Point via Indiana 55, referred to as the old "Nine-Mile-Stretch" at the time of the big race. National Guard soldiers were stationed at over 40 spots along the route, while nine telegraph stations were well-spaced along the raceway and relayed news about the race to spectators in the grandstands.

Two races took place - the main race occurred on Saturday, June 19th, race that was 402 miles in length (17 laps), followed by a race on Sunday, June, 20th, which was 236 miles in length (10 laps). The main race was won by Louis Chevrolet driving a 32 horsepower Buick.

Given evidence concerning the source of this image (Charles W. Beam) and extant historical information available regarding the Cobe Trophy Race, I am fairly certain that this image is of C. A. Englebeck and his mechanic Tarkington. Published results of the main race indicate that Englebeck finished fifth in the race, driving a 44 horsepower Stoddard-Dayton automobile. The automobile shown above is a Stoddard-Dayton.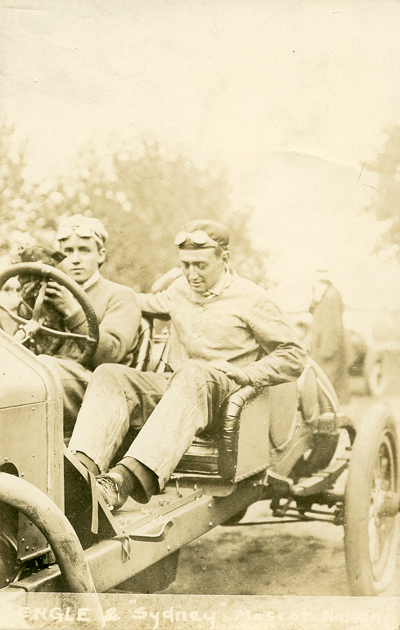 Return to Porter County General Images Index
Return to Porter County Photographs & Historical Images

Please contact the Porter County GenWeb Coordinator if
you can provide any additional information concerning this image.