Historical Images of Porter County
Eastbound Chicago, Lake Shore & South Bend Railway (South Shore) Train No. 59
Porter, Indiana

Date: June 19, 1909
Source Type: Postcard
Publisher, Printer, Photographer: George Leusch
Postmark: None
Collection: Steve R. Shook
Remark: Seen here is the eastbound Chicago, Lake Shore & South Bend Railway (South Shore) train No. 59. The train had overrun a crossing point of tracks and caused a head-on collision with the westbound train No. 58, near Shadyside Crossing in Porter, Indiana (located approximately one-quarter mile west of present day Indiana Highway 149). The crash occurred at a point where the tracks make a curve and a number of small hills are believed to have completely obscured the view along the curve.

The wreck occurred at 9:00 pm killing at least 10 (some news articles reported 12) and injuring about 40 passengers. The passengers on the train were returning from the Cobe Cup automobile races in Crown Point, Lake County, Indiana. The Cobe Cup Race was the forerunner to the Indianapolis 500; the main race was won by Louis Chevrolet driving a 32 horsepower Buick.

Responsibility for the crash was attributed to the motorman of the train who was killed in the collision. The motorman reportedly disobeyed orders, although the general manager of the company was in the cab with the motorman and was apparently aware of the orders as well.

The train car in the foreground, No. 73, survived. The car, originally built in 1908 by the Niles Car and Manufacturing, was rebuilt in 1910 and remained in passenger service until 1927, although it was only in use between Kensington and Ford City by that late date. The car remained in service as a work train until 1941; it was then sold to be used as a house. The car is now owned by the RAIL Foundation in Michigan City, Indiana, and is currently [November 2012] being restored in Murphysboro, Illinois.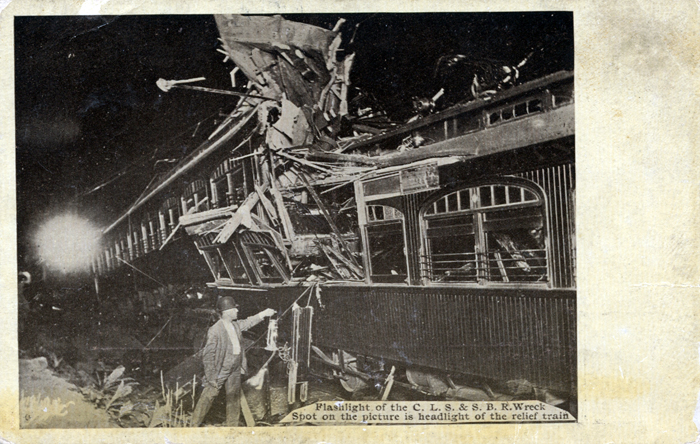 Return to Porter Railroads Images Index
Return to Porter County Photographs & Historical Images

Please contact the Porter County GenWeb Coordinator if
you can provide any additional information concerning this image.

Image and related text prepared by Steven R. Shook