Historical Images of Porter County
Town Hall, Porter, Ind.
Porter, Indiana

Date: 1915
Source Type: Postcard
Publisher, Printer, Photographer: Unknown
Postmark: None
Collection: Steven R. Shook
Remark: The following newspaper item concerning the construction of the Porter Town Hall appeared in the June 19, 1913, issue of The Chesterton Tribune, Chesterton, Porter County, Indiana [Volume 30, Number 13, Page 3, Column 2]: Porter Department -- The contract for the construction of the new city hall was let Tuesday evening by the Town Board, the lucky bidder being Joseph Ameling of Chesterton, whose bid for the completed job was $9,990. The next lowest bid was that of the Moe Construction company of Gary, $10,500. The Hess Construction company of Gary bid $11,000. There were a number of other bids for a portion of the work, but in the aggregate they amounted to more than the Ameling bid. Mr. Ameling has sublet the masonry work to Carlson Bros., and they started on the job Wednesday morning. The work will be rushed as fast as possible and it is hoped to have the building ready for occupancy early in the fall.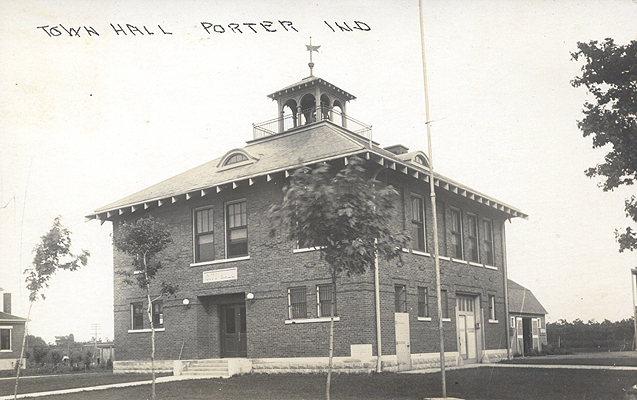 Return to Porter Public Buildings Images Index
Return to Porter County Photographs & Historical Images

Please contact the Porter County GenWeb Coordinator if
you can provide any additional information concerning this image.

Image and related text prepared by Steven R. Shook