Historical Images of Porter County
Group Photograph, Women in Drag
Porter, Indiana

Date: Circa 1920
Source Type: Photograph
Publisher, Printer, Photographer: Unknown
Postmark: Not Applicable
Collection: Gordon D. Rogers
Remark: The photograph was taken at the William J. "Bill" and Eva Anna (Czizek) Michaels residence. This house still stands [2014] and is located on the southwest corner of the intersection of Franklin Street and Pleasant Avenue in Porter, Porter County, Indiana. This photograph was taken looking northwest on Pleasant Avenue. Kneeling from left to right are Alice (Czizek) Wannegar and Eva (Czizek) Michaels. Back row, far left is Margaret Czizek, and at the far right is Bertha (Wannegar) Anderson. The two women in the middle of the back row are unidentified. It is speculated that the women may be dressed as men in celebration of the ratification of the Nineteenth Amendment to the United States Constitution, which prohibited any United States citizen from being denied the right to vote on the basis of sex. The amendment was ratified on August 18, 1920, when Tennessee became the 36th state to ratify the amendment.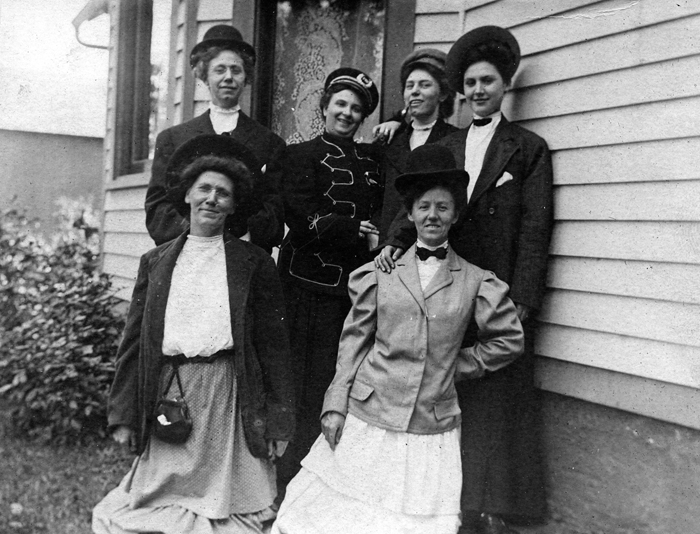 Return to Porter Miscellaneous Images Index
Return to Porter County Photographs & Historical Images

Please contact the Porter County GenWeb Coordinator if
you can provide any additional information concerning this image.

Image and related text prepared by Steven R. Shook