Historical Images of Porter County
Warble's Inn
Porter, Indiana

Date: 1942
Source Type: Photograph
Publisher, Printer, Photographer: Chesterton Tribune
Postmark: Not applicable
Collection: Mike Fleming
Remark: March 26, 1942. No, this is not a scene from a wild west movie thriller but just a peaceful scene in Porter, Ind. Joseph La Roche, owner of the Bailly homestead, is shown at the left. Next to him, left to right, are the Johnson brothers, -- Bill and Hill, the Willett brothers -- Fred and Arnold, and Dolores Willett, exercising a few of Willett's saddle horses. Orion Warble, well known Michigan cowhand and Indiana politician, was riding the white Arabian mare until he got so sore and stiff that the rest of the riders had to give him a rubdown, and the ride went on. The picture was taken after they had assisted Mr. Warble into the house. No statement could be obtained from Mr. Warble.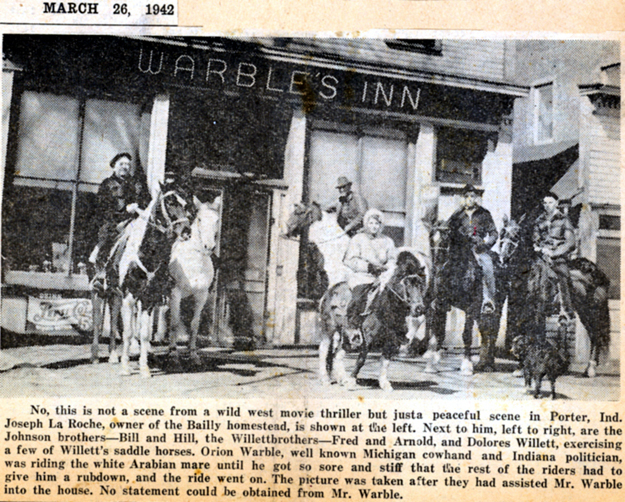 Return to Porter Hotels and Motels Images Index
Return to Porter County Photographs & Historical Images

Please contact the Porter County GenWeb Coordinator if
you can provide any additional information concerning this image.

Image and related text prepared by Steven R. Shook