Historical Images of Porter County
Porter Livery, Frank Wannegar, Proprietor
Porter, Indiana

Date: Circa 1907
Source Type: Postcard
Publisher, Printer, Photographer: E. G. Atkins
Postmark: August 20, 1907, Porter, Indiana
Collection: Gordon D. Rogers
Remark: Bertha Wannegar is at the reins of this surrey. Bertha's father, Frank Wannegar, was the proprietor of the Porter Livery, which is the building visible in this photograph.

The Porter Livery was located on Lincoln Street and was operated by Frank Wannegar from approximately 1905 to 1917.

Painted above the livery entrance is:
LIVERY FEED SALT STABLE
F. WANNEGAR

Bertha (Wannegar) Anderson was born on May 23, 1882, in Indiana, and married Emil Anderson in Joliet, Will County, Illinois, on October 23, 1916. Bertha died on January 17, 1968, in Porter County, Indiana, and was buried in Chesterton Cemetery in Chesterton, Porter County, Indiana.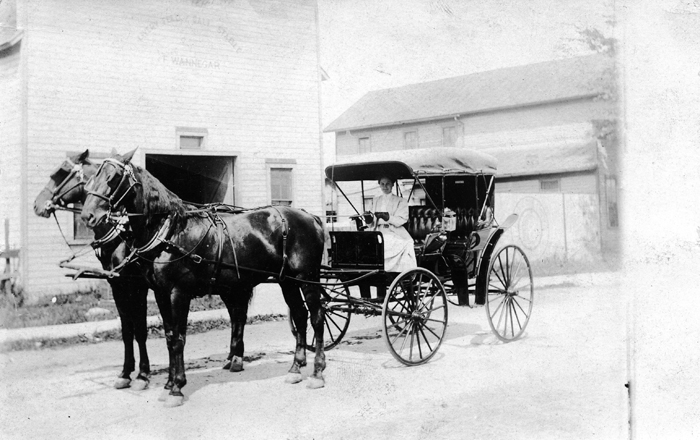 Return to Porter Businesses Images Index
Return to Porter County Photographs & Historical Images

Please contact the Porter County GenWeb Coordinator if
you can provide any additional information concerning this image.

Image and related text prepared by Steven R. Shook