Historical Images of Porter County
Samuelson Road Bridge, Little Calumet River
Portage, Indiana

Date: July 29, 1958
Source Type: Photograph
Publisher, Printer, Photographer: Unknown
Postmark: Not Applicable
Collection: Steven R. Shook
Remark: Written in pencil on the reverse of this photograph is the following: "July 29, 1958. Porter County Bridge over Little Calumet Looking South over new Steel Deck." The following newspaper item appeared in the June 4, 1958, issue of The Vidette-Messenger, published in Valparaiso, Porter County, Indiana [Volume 31, Number 282, Page 6, Column 3]: "Portage Township Bridge Over River To Be Repaired. Anton Jensen, county highway supervisor, today announced the county will provide a new face of steel to County Bridge No. 2 in Portage township, on Samuelson road between US 20 and 12. No. 2 bridge is 128-feet long and 18-feet wide. It stretches over the Little Calumet river. Bids are being opened to be presented and passed by the county board of commissioners. The winning contractor will tear up the wooden decks on No. 2, repair it and redeck it with steel plank. The new steel dress for No. 2's bottom may cost between $6,000 and $8,000, it was reported."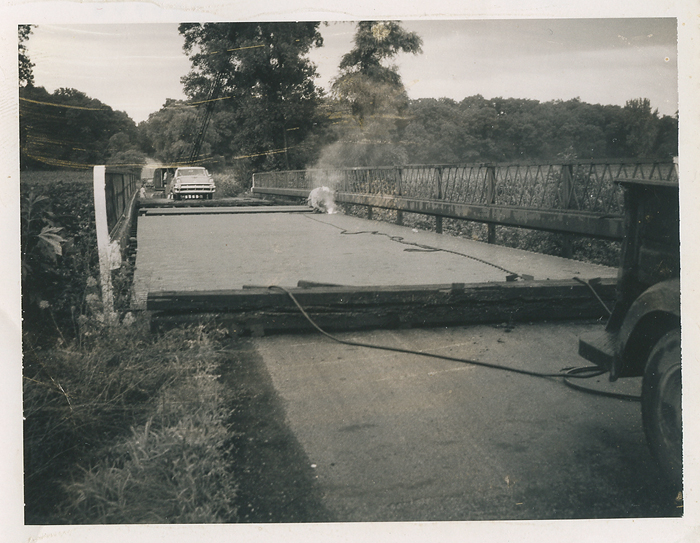 Return to Portage and South Haven Images Index
Return to Porter County Photographs & Historical Images

Please contact the Porter County GenWeb Coordinator if
you can provide any additional information concerning this image.