Historical Images of Porter County
The Ski Slide at Ogden Dunes
Ogden Dunes, Indiana

Date: Circa 1932
Source Type: Postcard
Publisher, Printer, Photographer: Brooks Photo (#402)
Postmark: None
Collection: Steven R. Shook
Remark: The Grand Beach Ski Club, which later changed its name to Ogden Dunes Ski Club, purchased a strip of land on a high hill in Ogden Dunes in 1927. On this hill the club constructed the largest steel ski jump structure in the world. Standing a total of 192 feet high, the rear tower of the structure was equivalent in height to a 22 story building. On January 22, 1928, the first ski meet was held on this new structure; a meet was then held annually for the following four years until January, 1933. The longest jump ever reported on this structure was 195 feet. In 1932, Norwegians Birger Ruud, Hans Beck, and Kaare Wahlberg, the gold, silver, and bronze medalists, respectively, in ski jumping at the 1932 Olympics at Lake Placid ran the slide at Ogden Dunes. The Ogden Dunes Ski Club met with severe financial setbacks during the Great Depression. In addition, operating expenses increased significantly due to some low snow years in the area, which resulted in the club having to import snow from northern Michigan and Wisconsin. Consequently, the structure was sold in the spring of 1935 to a ski club in Rockford, Illinois, and during the summer was dismantled and re-erected near that city.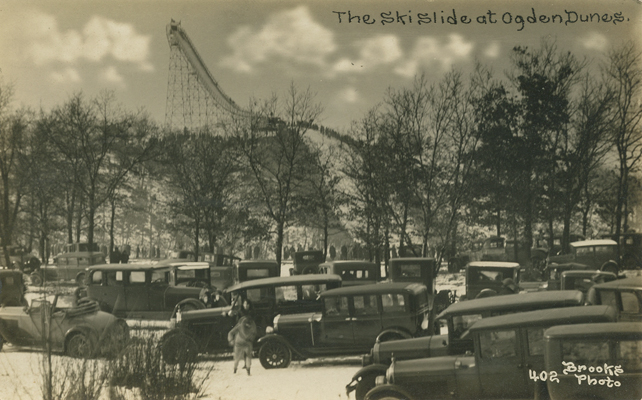 Return to Ogden Dunes Images Index
Return to Porter County Photographs & Historical Images

Please contact the Porter County GenWeb Coordinator if
you can provide any additional information concerning this image.