Historical Images of Porter County
Culbertson Family
McCool, Indiana

Date: Circa 1910
Source Type: Postcard
Publisher, Printer, Photographer: Artura
Postmark: None
Collection: Steven R. Shook
Remark: Sitting on the chairs on the porch, from left to right, are William Ashley Culbertson, Ida Christine (Swanson) Culbertson, and Mary Culbertson. Sitting on the porch steps, from left to right, are Helen (Culbertson) Francis and David H. Culbertson. William Ashley Culbertson was born August 7, 1878, in Des Moines, Polk County, Iowa, and died November 20, 1966, in Berwyn, Cook County, Illinois. On July 15, 1900, in St. Joseph, Berrien County, Michigan, William Ashley Culbertson married Ida Christine Swanson, who was born in Porter, Porter County, Indiana, circa 1878 and died on December 24, 1962, in Illinois. Both William and Ida are interred in Chesterton Cemetery in Chesterton, Porter County, Indiana. David H. Culbertson, father of William, was born in 1847 in Darke County, Ohio, and married Minnie Brown in Adair County, Iowa, in 1877. David died in 1936 in Boone, Boone County, Nebraska, and is interred in Rose Hill Cemetery located in Albion, Boone County, Nebraska. It is believed that Mary Culbertson, shown in this postcard image, may have been David's second wife. Helen Culbertson, daughter of David and Ida, was born on August 21, 1902, and died January 31, 1990; she married a man by the name of Francis. In the early 1960s, Helen was residing in LaGrange, Cook County, Illinois. William Ashley Culbertson operated a store in McCool, Indiana, located south of the railroad tracks on the west side of McCool Road for approximately 45 years, as well as served as the McCool postmaster for several years.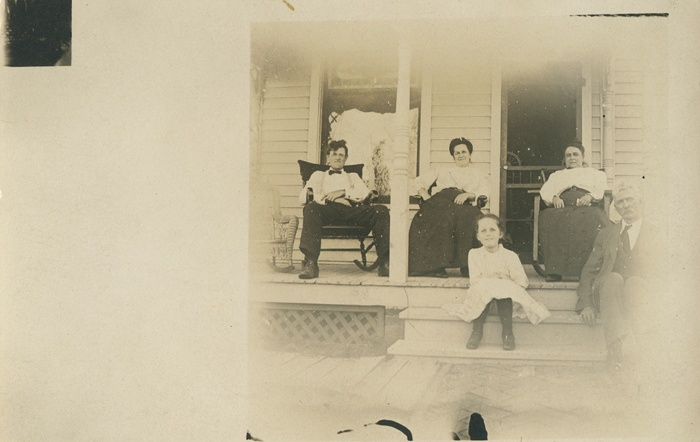 Return to McCool Images Index
Return to Porter County Photographs & Historical Images

Please contact the Porter County GenWeb Coordinator if
you can provide any additional information concerning this image.