Historical Images of Porter County
Babcock School, Looking Northwesterly
Liberty Township, Porter County, Indiana

Date: Circa 1910
Source Type: Postcard
Publisher, Printer, Photographer: Unknown
Postmark: None
Collection: Steven R. Shook
Remark: Babcock School, School District No. 6, was located near the northwest corner of the present day intersection of County Road 1050 North and 200 West (SE quarter of the SE quarter of Section 9). It is known that the school was constructed at some time prior to the Civil War in order to alleviate crowded conditions at the Salt Creek School, School District No. 2. It is believed that this structure was still physically standing as late as 1936. Liberty Township trustee records indicate that Martin Phares was hired in 1880 to teach at the Babcock School for a sum of $1.40 per day. Phares final report to the trustee states: "Miserable blackboards, miserable seats, miserable doorlocks, miserable pump, excellent windowblinds, excellent doors, excellent stove, excellent fence, excellent yard. Maps one and two fractions. No dictionary. Seats (loose and lame) one and one-half." Other teachers at this school included Kate Stokes and Miss Pelham. Kate Stokes later went on to become a Roman Catholic nun; namely, Sister Theodosia of the Sisters of Charity in Hammond, Indiana.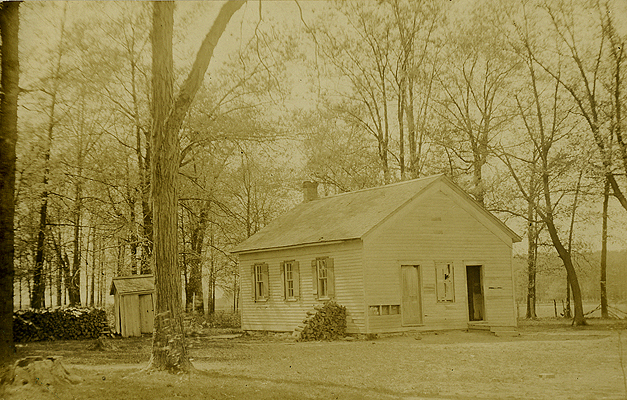 Return to Liberty Township Schools Images Index
Return to Porter County Photographs & Historical Images

Please contact the Porter County GenWeb Coordinator if
you can provide any additional information concerning this image.