Historical Images of Porter County
Valparaiso & Northern Railway Bridge Over Baltimore & Ohio Railroad Tracks at Woodville
Liberty Township, Porter County, Indiana

Date: February 19, 1912
Source Type: Photograph
Publisher, Printer, Photographer: Air Line News
Postmark: Not applicable
Collection: Steven R. Shook
Remark: Incorporated in August 1908, the Valparaiso & Northern Railway construction was financed by citizens of Valparaiso and outside investors; the railway was to become one of the feeder lines the the Chicago-New York Electric Air Line Railroad. A section between Chesterton and Goodrum, located just north of Woodville, was completed and put into service on February 18, 1911. The section between Flint Lake and Woodville was completed on October 7, 1911. Since no track had yet been completed between Sheridan Beach and Goodrum Junction, the connection between these two points was made by a horse-drawn bus. By October 7, 1911, track was completed from Sheridan Beach to Woodville, thereby allowing passengers to make a short walk between Goodrum Junction and Woodville to make connections. A new bridge over the Baltimore & Ohio Railroad at Woodville, seen here looking north, allowed for the connection between Woodville and Goodrum Junction beginning February 12, 1912. Interurban service to Valparaiso ceased on October 23, 1938, largely due to the increasing use of automobiles, an improved highway system, and the financial depression.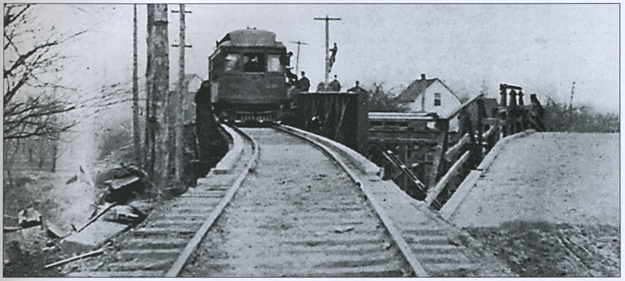 Return to Liberty Township Railroads Images Index
Return to Porter County Photographs & Historical Images

Please contact the Porter County GenWeb Coordinator if
you can provide any additional information concerning this image.