Historical Images of Porter County
Goodrum Junction Station
Liberty Township, Porter County, Indiana

Date: September 16, 1912
Source Type: Photograph
Publisher, Printer, Photographer: Air Line News
Postmark: Not applicable
Collection: Steven R. Shook
Remark: With the Air Line Railroad's completion of their Gary Connecting Railways line on August 14, 1912, the Good Junction served as a centralized point between Gary/Hammond, Chesterton, Valparaiso, and LaPorte. On the track to the left are a Chesterton car, followed by a Valparaiso car, and in the distance is a Hammond car. On the track to the right is a car from LaPorte. The Air Line Railroad was incorporated in April 1906 with the vision of constructing a rail line from New York to Chicago along a 742 mile route, which was considerably shorter than any existing routes at the time. A section between LaPorte and Gary was completed, but the full route to New York was never constructed due to financial issues. The Goodrum station was located at the intersection of the interurban feeder routes arriving from Valparaiso and Chesterton, thereby feeding Gary and LaPorte with passengers from northern and southern portions of Porter County.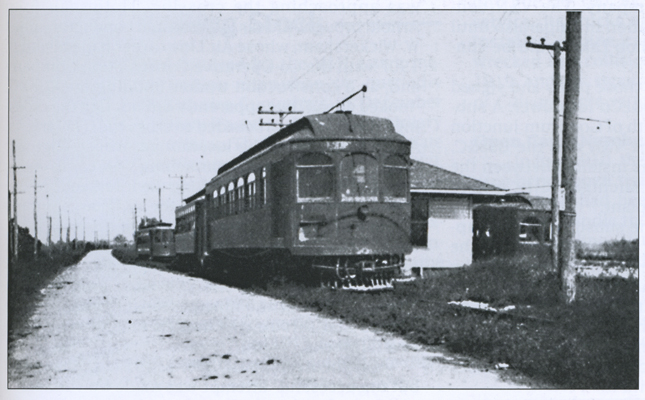 Return to Liberty Township Railroads Images Index
Return to Porter County Photographs & Historical Images

Please contact the Porter County GenWeb Coordinator if
you can provide any additional information concerning this image.