Historical Images of Porter County
Gary Railways Interurban Line, Valparaiso Division, at Esserman Siding
Liberty Township, Porter County, Indiana

Date: 1938
Source Type: Photograph
Publisher, Printer, Photographer: John F. Humiston
Postmark: Not applicable
Collection: Steven R. Shook
Remark: This photograph was taken southeast of the current Liberty Township Volunteer Fire Department; the cars seen here are traveling just south of and parallel to County Road 900 North. The northeast corner of the current Liberty Intermediate School property would be to right in this photograph. The Baltimore & Ohio Railroad paralleled the interurban line near this point and its grade would be to the left of the interurban line in this image. The Gary and Valparaiso Railway's Valparaiso Line operated from 1917 to October 23, 1938, when it was abandoned. The interurban provided hourly runs between Garyton (East Gary/Lake Station) and Valparaiso for many years. During the Great Depression, however, the schedule was reduced, with runs being operated every two hours. The discontinuance of interurban service was largely affected by the increasing use of automobiles, an improved highway system, and the financial depression. A freight service was also run on this line, transporting goods between Gary, LaPorte, South Bend, and Goshen. Milk cars were especially important in moving this commodity to larger population centers located to the west; milk cars were run on this line between Chesterton, Gary, Hammond, Indiana Harbor, LaPorte, and Valparaiso. Milk traffic on the line increased from 70 cans a day in 1913 to 270 cans by 1916. Milk cars continued operation from Valparaiso to Hammond until 1924.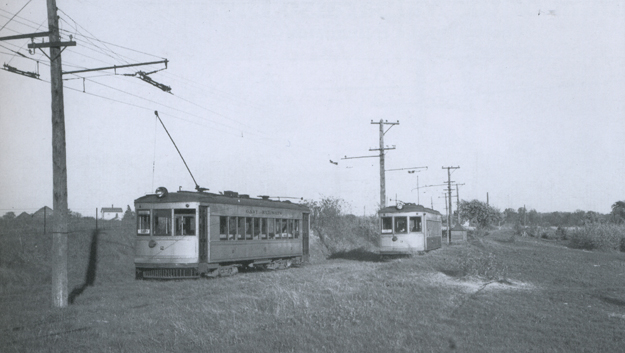 Return to Liberty Township Railroads Images Index
Return to Porter County Photographs & Historical Images

Please contact the Porter County GenWeb Coordinator if
you can provide any additional information concerning this image.