Historical Images of Porter County
Chicago-New York Electric Airline Railroad, Goodrum Power Station
Liberty Township, Porter County, Indiana

Date: Circa 1914
Source Type: Photograph
Publisher, Printer, Photographer: Unknown
Postmark: Not applicable
Collection: Mike Fleming
Remark: The Goodrum Junction power station was a 300 kilowatt power generation station located east of the intersection of present day County Road 950 North and Indiana Highway 49. The station was named after George C. Goodrum, a real estate broker and resident of Fall River, Massachusetts, who had invested significantly in the Chicago-New York Electric Airline Railroad venture. The station, which began operation on July 17, 1911, provided power to a section of the Chicago-New York Electric Airline Railroad. This building was destroyed after it was struck by lightning in 1925. A new power station to replace this one was constructed at Woodville Junction in 1926. The Air Line Railroad was incorporated in April 1906 with the vision of constructing a rail line from New York to Chicago along a 742 mile route, which was considerably shorter than any existing routes at the time. A section between LaPorte and Gary was completed, but the full route to New York was never constructed due to financial issues. The Goodrum station was located at the intersection of the interurban feeder routes arriving from Valparaiso and Chesterton, thereby feeding Gary and LaPorte with passengers from northern and southern portions of Porter County.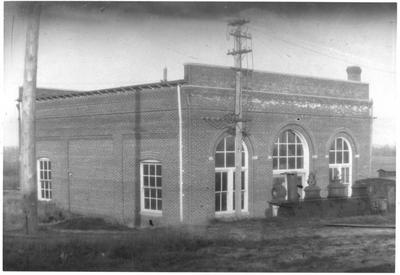 Return to Liberty Township Railroads Images Index
Return to Porter County Photographs & Historical Images

Please contact the Porter County GenWeb Coordinator if
you can provide any additional information concerning this image.