Historical Images of Porter County
Bluebird Inn
Liberty Township, Porter County, Indiana

Date: 1939
Source Type: Postcard
Publisher, Printer, Photographer: Gloss Tone, Fort Wayne Publishing Company (#G-919)
Postmark: June 22, 1939, Butler, Indiana
Collection: Steven R. Shook
Remark: Bluebird Inn. Valparaiso, Ind. Cabins, Modern, Hot and Cold Showers. Chicken Dinners. Junction U. S. 6 and 49. L. Caprus, Prop. The Bluebird Inn was located on the southwest corner of the present day intersection of US Highway 6 and Old Indiana Highway 49.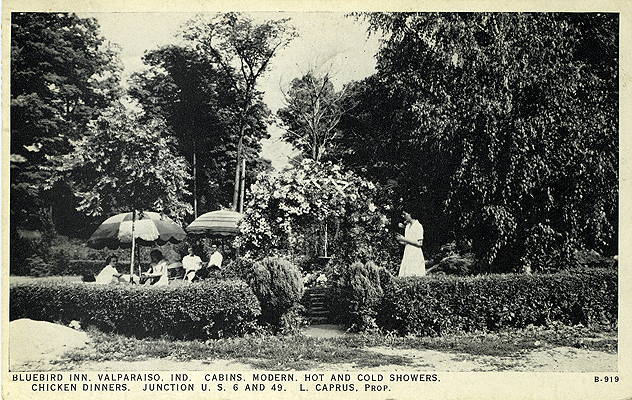 Return to Liberty Township Hotels & Motels Images Index
Return to Porter County Photographs & Historical Images

Please contact the Porter County GenWeb Coordinator if
you can provide any additional information concerning this image.