Historical Images of Porter County
Coffer Damming for Bridge Near Kouts
Kouts, Indiana

Date: 1916
Source Type: Photograph
Publisher, Printer, Photographer: Unknown
Postmark: Not applicable
Collection: Steven R. Shook
Remark: This photograph was purchased with ten other photographs, all taken in the Wilder and Kouts area of LaPorte and Porter Counties by a survey crew employed by the Chicago and Erie Railroad. This image below shows the construction of a cofferdam for the installation of a bridge. The waterway shown here is likely to be either Crooked Creek, Hannon Ditch, Jones Ditch, Martin Ditch, Reeves Ditch, or Sandy Hook Ditch, all of which were located very near Kouts and crossed over by the Erie Railroad tracks. On the reverse of this photograph is written the following: "This is one of the bridges that is being constructed on our section which I am inspecting. Its foundation is 10 ft below water level and it had to be cofferdammed in order to set concrete."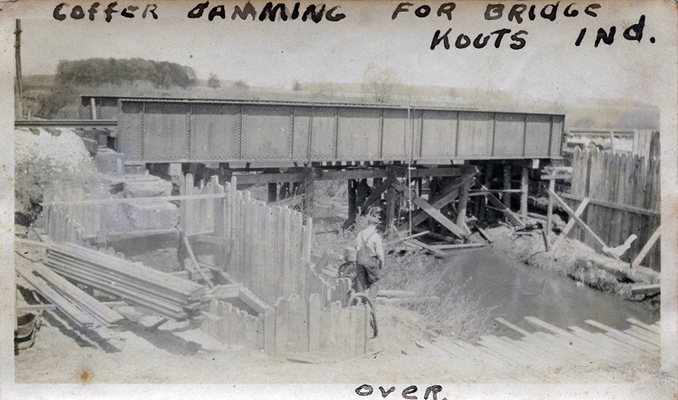 Return to Kouts Railroads Images Index
Return to Porter County Photographs & Historical Images

Please contact the Porter County GenWeb Coordinator if
you can provide any additional information concerning this image.

Image and related text prepared by Steven R. Shook