Historical Images of Porter County
Dunn's Bridge at Burrows Camp
Kankakee River, Porter County, Indiana

Date: 1914
Source Type: Postcard
Publisher, Printer, Photographer: Unknown (#273-5)
Postmark: September 3, 1914, San Pierre, Indiana
Collection: Steven R. Shook
Remark: Located in Pleasant Township, NE¼ of SE¼ of Section 15, Dunn's Bridge, 180 feet long and 16 feet wide, was built circa 1894 and is named after farmer Isaac D. Dunn, a native of Cumberland County, Maine, who resided in Kankakee Township, Jasper County. The bridge was constructed as a means for Dunn to move his farming equipment from one side of the Kankakee River to the other side. It has long been rumored that the structural frame of Dunn's Bridge was constructed from iron trusses taken from the world's first Ferris wheel that operated at the 1893 World's Columbian Exposition in Chicago, Illinois. This rumor is very likely untrue since the top of the bridge arch flattens out and, more importantly, the 1893 Ferris wheel from the World's Columbian Exposition was removed to St. Louis, Missouri, for use at the 1904 Louisiana Purchase Exposition - being dynamited on May 11, 1906, and sold for scrap. Thus, the bridge's construction predated the dismantling of the Ferris wheel by many years. It is probable that the bridge trusses did indeed originate from the 1893 World's Columbian Exposition, but more likely from one of the domed or barrel-arched structures that were dismantled after the exposition. A bridge survey report prepared for the Jasper County Highway Department by Jasper County Surveyor E. D. Nesbitt on January 6, 1933, supports the barrel-ached structure theory. In his report, Nesbitt writes that Dunn's Bridge was constructed from "curved roof trusses from a World's Fair building used in Chicago in 1933." One persistent theory is that the arches were obtained from the dismantled Administration Building from the World's Columbian Exposition.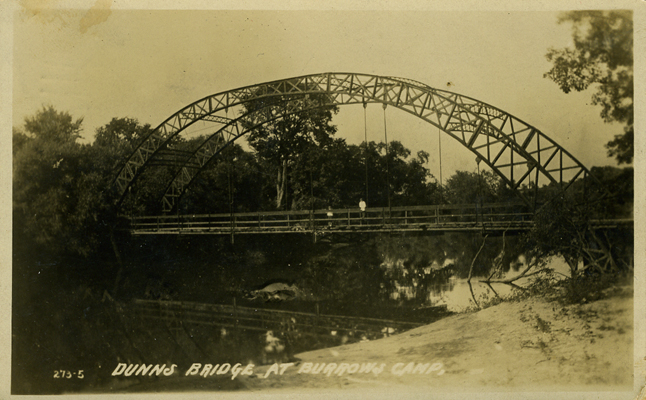 Return to Kankakee River Images Index
Return to Porter County Photographs & Historical Images

Please contact the Porter County GenWeb Coordinator if
you can provide any additional information concerning this image.

Image and related text prepared by Steven R. Shook