Historical Images of Porter County
View of New Baum's Bridge, Kouts, Ind.
Kankakee River, Porter County, Indiana

Date: 1919
Source Type: Postcard
Publisher, Printer, Photographer: C. R. Childs Company (#3-kir)
Postmark: August 26, 1919, Kouts, Indiana
Collection: Steven R. Shook
Remark:
Originally a crossing referred to as Pottawatomie Ford that was long used by Native Americans and early pioneers to traverse the Kankakee River. Jesuit explorers also mention this particular crossing of the Kankakee River, as did General William Hull when sketching a map of the region just prior to his surrender of Fort Detroit to Sir Isaac Brock, of the British forces, on August 16, 1812. A ferry crossing at this point was eventually established by John Ship and Joseph Stearns, who operated their unlicensed ferry business as Sherwood's Ferry. In October 1839, William Eaton obtained a license from the Porter County Commissioners to operate a ferry across the Kankakee River where Ship and Stearns had been operating their ferry business. Eaton's license at the time of granting limited his ferry crossing charges as follows:
Each footman, 6 1/4 cents; man and horse, 12 1/2 cents; horse and Dearborn wagon, 25 cents; two horses and wagon, 37 1/2 cents; one yoke of oxen and wagon, 37 1/2 cents; four horses and wagon, 50 cents; two yoke of oxen and wagon, 50 cents; any higher number of animals to wagon, 50 cents; each head of cattle, 6 1/4 cents; each sheep, 3 cents; each hog, 3 cents; each horse, 6 1/4 cents; asses and mules, each 6 1/4 cents; and when the water was high, so that the ferry would have to run up to the head of the canon, three times the above rates were charged.

William Eaton operated his ferry across the river until the winter of 1849, when he constructed a toll bridge at the ferry crossing. This was the first bridge to cross the Kankakee River above Momence, Illinois. The bridge was destroyed by fire in the summer of 1850, supposedly by an arsonist who was disgruntled with the fact that a toll was required to cross the bridge. When William Eaton passed away in 1851, his wife continued to operate the ferry until her death in 1857. Both William Eaton and his wife were buried on a knoll overlooking the ferry landing. A man named Sawyer came into possession of the ferry landing after Mrs. Eaton's death in 1857, and in the same year constructed a new bridge, which was destroyed the following spring due to high water and ice damning. Sawyer continued operating a ferry business across the river until he sold his interest to Enos Baum in 1860. In 1863, Baum constructed the third bridge to cross the ferry location. This bridge was more substantially constructed and operated as a toll bridge; in fact, it was the last toll bridge or road in Northwest Indiana until the modern interstate system was constructed through Porter County. The county commissioners of Jasper County and Porter County secured ownership of Baum's Bridge at the close of the Civil War. General Lew Wallace purchased a narrow strip of land just east of the bridge's north landing where he moored his houseboat, The White Elephant. It has been reported that Wallace wrote his novel Ben-Hur: A Tale of the Christ, published in 1880, while residing in the houseboat. The bridge across the Kankakee River to this day is referred to as Baum's Bridge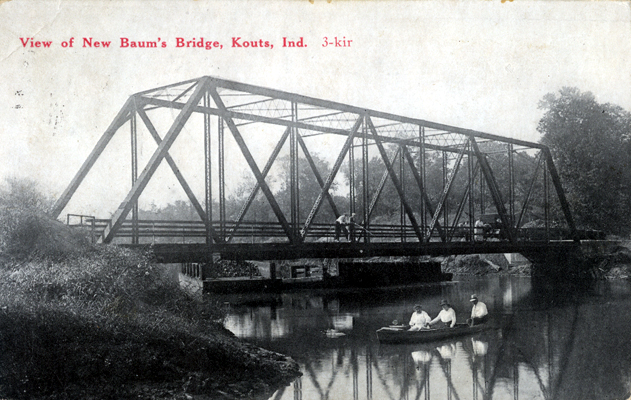 Return to Kankakee River Images Index
Return to Porter County Photographs & Historical Images

Please contact the Porter County GenWeb Coordinator if
you can provide any additional information concerning this image.

Image and related text prepared by Steven R. Shook