Historical Images of Porter County
Dredge on the Kankakee River, Burrows' Camp
Kankakee River, Porter County, Indiana

Date: 1909
Source Type: Postcard
Publisher, Printer, Photographer: Nelson
Postmark: August 9, 1909, Wheatfield, Indiana
Collection: Steven R. Shook
Remark: In 1902, the Kankakee Reclamation Company was organized to deepen, widen, and straighten the Kankakee River. After several court battles, the company was finally granted permission to dredge the river in 1911, and commenced dredging in 1914. The straightening of the river shortened a stretch of 45 miles flowing through the counties of LaPorte and Starke to 17 miles. At the time of the straightening, the river was renamed "Marble-Powers Ditch," a name that was very rarely used after dredging and used even more seldom today. The floating dredges themselves consisted of living quarters for about eight men and a kitchen. Leonard Burrows and his wife, Mary, owned and operated a small resort along the Kankakee River. The Burrows sold their camp to John Smith of Indiana Harbor, Indiana, in November 1916 for the sum of $7,000. Smith soon took up residence at the property and operated the saloon and lunch business. The Borrows moved directly across the road and maintained ownership and operation of the motion picture theatre.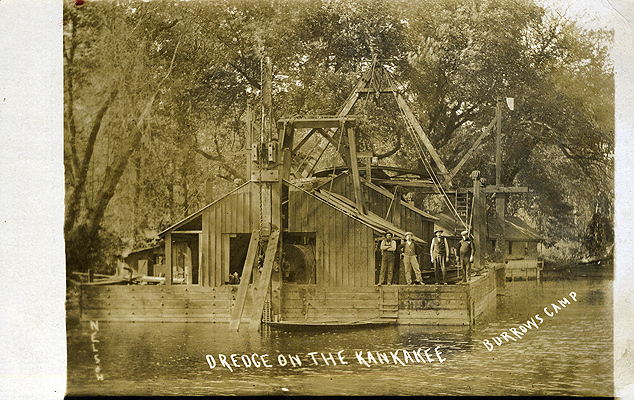 Return to Kankakee River Images Index
Return to Porter County Photographs & Historical Images

Please contact the Porter County GenWeb Coordinator if
you can provide any additional information concerning this image.

Image and related text prepared by Steven R. Shook