Historical Images of Porter County
Hebron Public School, Hebron, Indiana
Hebron, Indiana

Date: 1952
Source Type: Postcard
Publisher, Printer, Photographer: Curt Teich (#2C103)
Postmark: None
Collection: Steven R. Shook
Remark: Construction of this structure began in 1938 and was completed in 1939. The school, located at 307 South Locust Street, was built using funding from the Works Progress Administration. Consisting of 46 rooms, the structure had the ability to accommodate 500 students. Due to the post-WWII baby boom, an elementary wing was added to this building in 1960, with a second elementary wing constructed in 1963, and yet another third elementary wing constructed in 1968. In 1973, the middle school wing was constructed on the northeast of this structure. In 1978 and 1979, a farm shop, cafeteria, and a fourth elementary wing were added to this structure. In 1986, a media center (library), computer room, math room, elementary music room, elementary administrative offices, and second gym were added to the structure.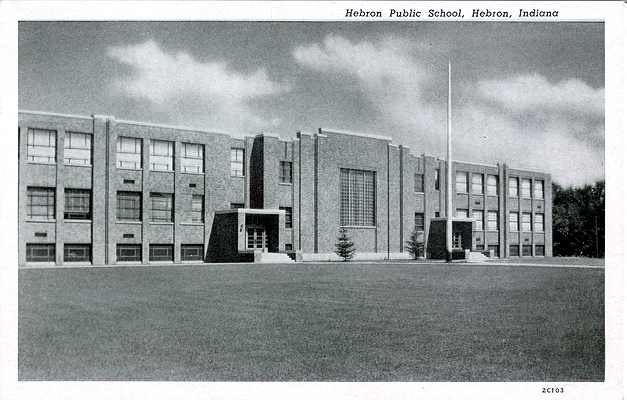 Return to Hebron Schools Images Index
Return to Porter County Photographs & Historical Images

Please contact the Porter County GenWeb Coordinator if
you can provide any additional information concerning this image.

Image and related text prepared by Steven R. Shook