Historical Images of Porter County
Hebron Public School, Hebron, Ind.
Hebron, Indiana

Date: 1915
Source Type: Postcard
Publisher, Printer, Photographer: Unknown (#1-HIR)
Postmark: January 18, 1915, Hebron, Indiana
Collection: Steven R. Shook
Remark: This school structure was completed in 1914 and was built to replace the original brick school building in Hebron that was aging and too small given growing enrollment; this building was constructed on the same location on the west side of Adams Street as the original brick school building. The building included eleven classrooms, a combination gym and auditorium, and a shop room. Instruction in manual arts, science, health, physical education, home economics, typing, business, and music were taking place in this school by the 1930s. As early as the late 1920s. however, the Hebron school was nearly at capacity due to growing enrollment - nearly 300 students were enrolled in first through senior grade levels. Despite being too small and outdated, this school structure was used until 1939 because the Great Depression created too much economic hardship for the community to construct a new school.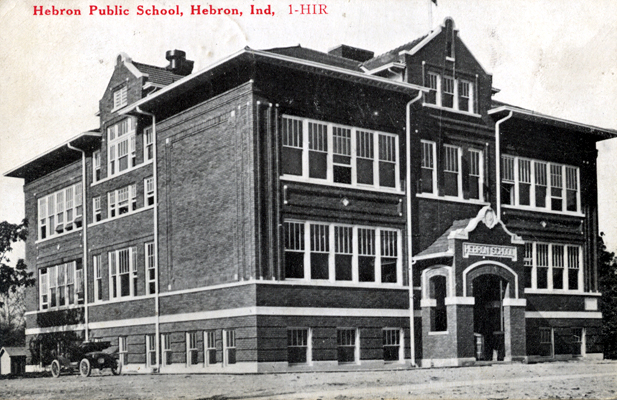 Return to Hebron Schools Images Index
Return to Porter County Photographs & Historical Images

Please contact the Porter County GenWeb Coordinator if
you can provide any additional information concerning this image.

Image and related text prepared by Steven R. Shook