Historical Images of Porter County
William Antrim and William Smith Investigating the Murder of William Lindstrom
Hebron, Indiana

Date: December 1926
Source Type: Photograph
Publisher, Printer, Photographer: Chicago Daily News
Postmark: Not Applicable
Collection: Steven R. Shook
Remark: This newspaper photograph from December 1926 states: Photo made at Hebron, Ind. shows - William Antrim, Marshall of Hebron, and Sgt. William Smith of Chicago Police, raking over coals in the home of Mrs. Catherine Cassler in search of clues. Catherine Cassler was sentenced to death for the murder of William Lindstrom, 51. The murder, which took place in Chicago, was the result of a plot to collect on a life insurance policy on Lindstrom valued at $7,500. Lillian Fraser, Lindstrom's common law wife, was also involved in the plot with Cassler, as was Loren Patrick, a rumrunner. Investigators searched Cassler's home in Hebron, Indiana, for clues in the case. Cassler was sentenced to hang on October 21, 1927, by Judge Patrick Sullivan. Just days before her execution date, Cassler's attorneys were able to secure a 60-day stay of execution, which allowed for an appeal to the Illinois Supreme Court. On December 21, 1927, the Illinois Supreme Court granted a review of Cassler's conviction. Meanwhile, Lillian Fraser died suddenly in the period between Cassler's conviction and the Illinois Supreme Court decision. In addition, Loren Patrick changed his story concerning Lindstrom's murder, insisting that Cassler had nothing to do with it. As a result Cassler was released on April 20, 1929. Had Cassler hung, she would have been the first woman to be executed in the state of Illinois.

While Catherine Cassler was in prison awaiting her execution, her husband, Truman Cassler, took up relations with a younger woman named Cameola "Babe" Souter, aged 24 years. Souter worked as a Vaudeville dancer, and was quite petite, weighing half as much as the 200-pound Cassler. While incarcerated, Cassler received a visit from Souter, who taunted Cassler and stated that she would marry Truman after Catherine's execution. On April 30, 1929, a mere ten days after being released from prison, Catherine severely beat Souter. Then, thirty days later, Souter's body was discovered in a swamp near Hebron. She had been shot to death with .32 caliber bullets. Following an inquest into the death of Babe Souter, Catherine Cassler was arraigned for murder. Porter County authorities, however, were unable to gather enough evidence for a trial, thus releasing Cassler.
Catherine Cassler was under suspicion in the death of a third individual in 1937. Cassler had taken out a $1,000 insurance policy on Warren Shattuck, a boarder in her home that she passed off as being her son. Six weeks after the insurance policy was taken out, Shattuck reportedly fell from a terrace of Cassler's home. Asked why the insurance policy listed Cassler as Shattuck's mother, Cassler stated that her boarder often caller her Mom. Cassler waived the insurance claim, likely to avoid an thorough investigation from the insurer. No arrests or convictions were made in connection with Shattuck's death.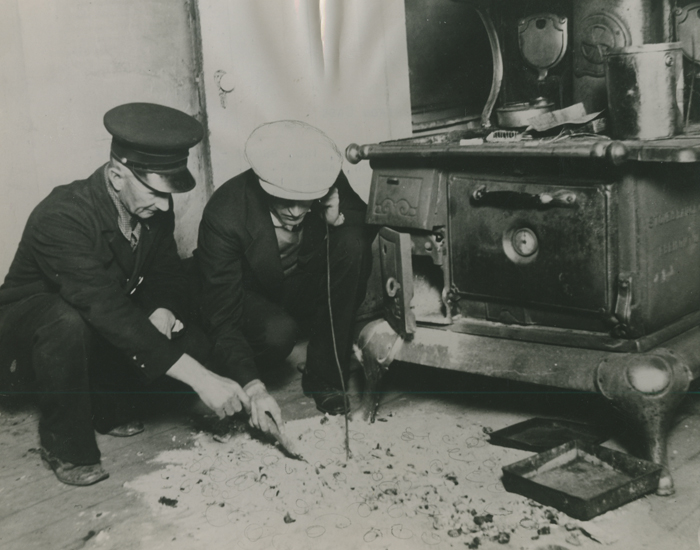 Return to Hebron Miscellaneous Images Index
Return to Porter County Photographs & Historical Images

Please contact the Porter County GenWeb Coordinator if
you can provide any additional information concerning this image.

Image and related text prepared by Steven R. Shook