Historical Images of Porter County
Boy Scout Cabin, Hebron, Indiana
Hebron, Indiana

Date: 1952
Source Type: Postcard
Publisher, Printer, Photographer: Curt Teich (#2C102)
Postmark: None
Collection: Steven R. Shook
Remark: The Scout Cabin, located at 205 Adams Street, was constructed in August 1948. The property upon which the cabin sits was gifted to the town of Hebron by the Sigler family; the Siglers imposed restrictions on the use of the property and for providing care and upkeep to the property. For instance, only wide tire rubber wagons are the only vehicles allowed to enter the property. The only town fountain was located at this site, constructed in 1914 by Clifton Hobbs, which was later torn down much to the disappointment of the local citizens. When the Scout Cabin was constructed, the fireplace was constructed first. When the interior walls were paneled, the builders came up one-third short of knotty pine. Thus, the remainder of the interior was paneled in cherry. The individuals largely responsible for the original construction of the Scout Cabin were Chuck Fry, Russell Hoagland, Craig Stevens, and Harry Stockman. Incidentally, when construction began on the structure it was halted because no permission was granted by the town to build it. The town board, however, soon granted permission and construction proceeded to completion. Though funds from a variety of sources were used to finance the construction project, the largest majority of funds were provided through a loan by Louis Alyea from the Donald Alyea Fund, which was later repaid by the Commercial Club. In 1956, a 16 foot by 30 foot addition was put onto the north end of the building, elongating it. Bricks were placed at the entrance of the cabin in 1957 by boy scouts, the bricks originating from the old school house that once stood across the street from the Scout Cabin. A fire damaged the kitchen area in the northwest part of the cabin in 1977. The Les Osburn Construction Company, Wilfang Builders, and Country Side Builders repaired this damage. In September 1989, the park on which the Scout Cabin sits was renamed after Louis Alyea and became formally known as Louis Alyea Memorial Park.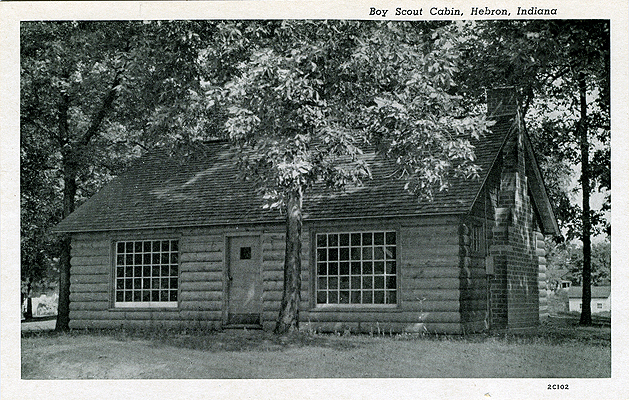 Return to Hebron Miscellaneous Images Index
Return to Porter County Photographs & Historical Images

Please contact the Porter County GenWeb Coordinator if
you can provide any additional information concerning this image.

Image and related text prepared by Steven R. Shook