Historical Images of Porter County
United Presbyterian Church
Hebron, Indiana

Date: Circa 1910
Source Type: Postcard
Publisher, Printer, Photographer: Unknown
Postmark: None
Collection: Steven R. Shook
Remark: The Associate Reform Church of Bethlehem was organized on July 28, 1838, led by pioneers Samuel Turner, Thomas Dinwiddie, Berkley Oliver, and Reverend Hannan. The original congregation consisted of fifteen members. The first resident pastor of the church was Reverend Wilson Blaine, who incidentally was Hebron's first postmaster. During his tenure as pastor, Reverend Blaine had the church name formally changed to the Associate Reform Church of Hebron, from which the town of Hebron derived its name. The original church, constructed in 1847, was located approximately one mile south of present-day Hebron and was a log structure. The log structure was replaced in 1852 by a plain frame building, which was later moved to town in 1864 in order to be more centrally located to the congregation. In 1858, the Associate Reform Church was renamed as the United Presbyterian Church. The church seen here, located at 108 North Jefferson Street, was built in 1879 on the same site in which the second church building was relocated in town; it cost approximately $2,500 to construct. Membership in the church decreased substantially during the early 1900s, which finally resulted in the discontinuation of services in 1935. In 1933, the Dutch Reform Church took over the church building, but discontinued use of the building in June of 1936. Later, St. Helen's Catholic Church, used this building for its services. The St. Helen's congregation later replaced this building with another structure and sold it in the mid 1970s to the Church of God of Prophecy.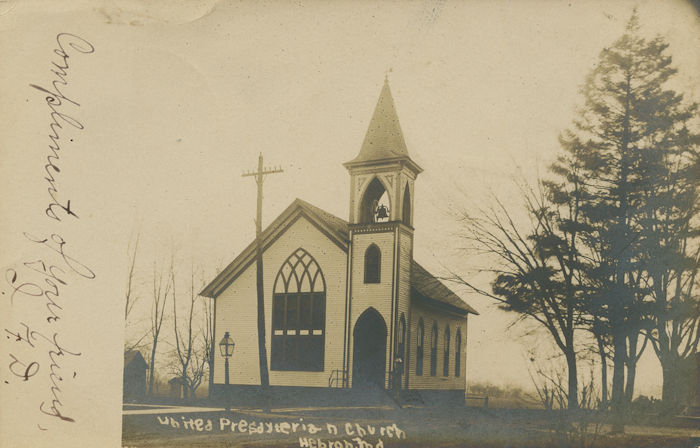 Return to Hebron Churches Images Index
Return to Porter County Photographs & Historical Images

Please contact the Porter County GenWeb Coordinator if
you can provide any additional information concerning this image.

Image and related text prepared by Steven R. Shook