Historical Images of Porter County
Christian Church
Hebron, Indiana

Date: Circa 1950
Source Type: Postcard
Publisher, Printer, Photographer: Unknown
Postmark: None
Collection: Steven R. Shook
Remark: During the summer and fall of 1877, a major Christian revival meeting that took place over eleven weeks in Hebron, which led to a considerable increase in the interest of religious observation in the town. The Christian Church in Hebron was formally organized under the direction of Reverend Lemuel Shortridge on September 16, 1877, at Sweeney's Hall. The original Christian Church was constructed in 1878 at a cost of $1,100 under the direction of Reverend A. B. Maston. Reverend Maston later left the church and became a missionary in New Zealand. In the spring of 1910, the original church, located at 202 East Sigler, was remodeled and enlarged, as seen here, at a cost of $7,000 under the pastorate of Reverend S. W. Brown. Considerable construction again took place on the structure in 1959 when the building was moved back from the street by 20 feet, a full basement was excavated, a new foundation laid, and the auditorium remodeled. In the 1980s, the church underwent remodeling with replacement of the theatre seats in the sanctuary with cushioned pews, new carpeting, a new pulpit, and renovation of the fellowship hall and classrooms.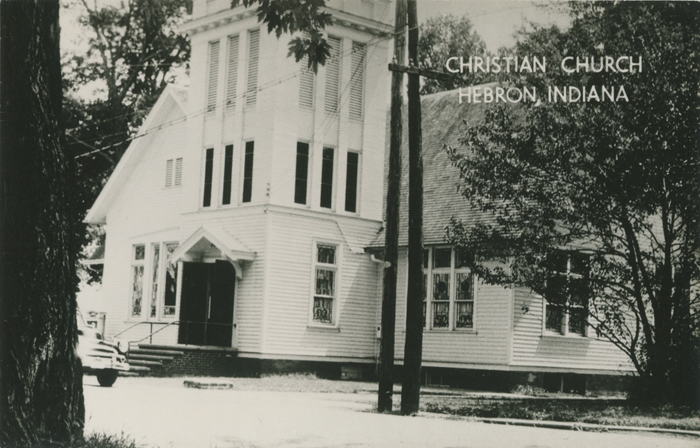 Return to Hebron Churches Images Index
Return to Porter County Photographs & Historical Images

Please contact the Porter County GenWeb Coordinator if
you can provide any additional information concerning this image.

Image and related text prepared by Steven R. Shook