Historical Images of Porter County
St. Helen's Church, Hebron, Indiana
Hebron, Indiana

Date: 1964
Source Type: Postcard
Publisher, Printer, Photographer: Unknown
Postmark: August 6, 1964, Hebron, Indiana
Collection: Steven R. Shook
Remark: A relatively small number of Catholics settled in the Hebron area, which was not great enough to support the construction of a church. In 1866, Hebron became a mission out of Valparaiso, under the direction of Father Michael O'Reilly of St. Paul's Catholic Church, and mass was celebrated at various Catholic family homes in the Hebron area. For nearly 48 years, mass was held exclusively at the Ryan family residence. In 1872, the mission was transferred to Crown Point in Lake County in since it was easier to travel to and from relative to Valparaiso. Around 1925, members of the Hebron mission affiliated with St. Mary's Catholic Church in Kouts and discontinued celebrating mass in the homes of local Catholic families. The church structure seen here was built 1879 by the United Presbyterian congregation at a cost of $2,500. Membership in the United Presbyterian Church decreased substantially during the early 1900s, which finally resulted in the discontinuation of services in 1935. In 1933, the Dutch Reform Church took over the church building, but discontinued use of the building in June of 1936. Later, St. Helen's Catholic Church used this building for its services. The St. Helen's congregation later replaced the building seen here with another structure on July 9, 1989, and sold it to the Church of God if Prophecy.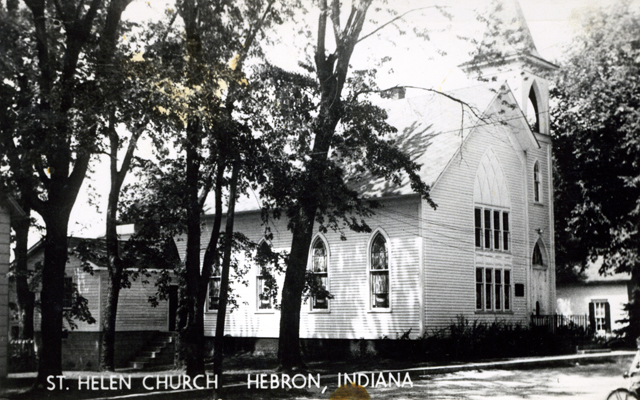 Return to Hebron Churches Images Index
Return to Porter County Photographs & Historical Images

Please contact the Porter County GenWeb Coordinator if
you can provide any additional information concerning this image.

Image and related text prepared by Steven R. Shook