Historical Images of Porter County
Edwin Furness Leigh, 1938
Furnessville, Indiana

Date: July 10, 1938
Source Type: Photograph
Publisher, Printer, Photographer: Chicago Daily Times
Postmark: Not applicable
Collection: Steven R. Shook
Remark: This photograph was taken by a photographer employed by the Chicago Daily Times, which merged with the Chicago Sun to form the Chicago Sun-Times in 1948. Typed on the reverse of this 8" x 10" photograph is the following: "Edwin Furness Leigh, 57, in garden of his home at Furnessville, Ind. - grandson of founder of Furnessville." Edwin Furness Leigh was born on June 27, 1881, in Indiana, and died on November 11, 1949, in Los Angeles, Los Angeles County, California. Edwin was married to Maud Norris on November 21, 1906, in Prescott, Yavapai County, Arizona.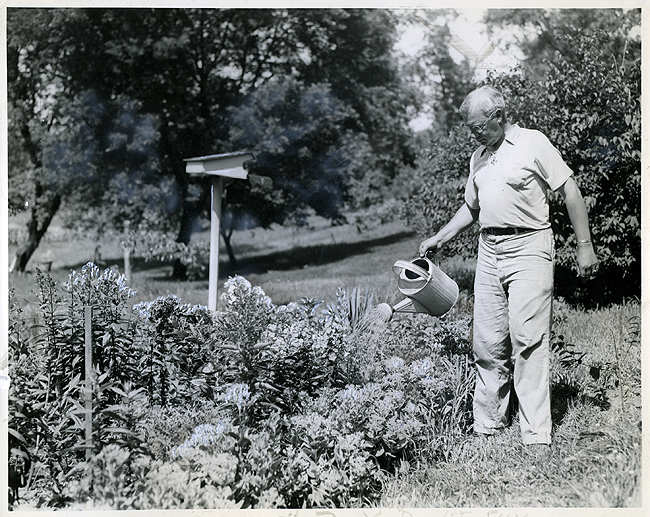 Return to Furnessville Images Index
Return to Porter County Photographs & Historical Images

Please contact the Porter County GenWeb Coordinator if
you can provide any additional information concerning this image.

Image and related text prepared by Steven R. Shook