Historical Images of Porter County
Musette Lewry, 1957
Furnessville, Indiana

Date: 1957
Source Type: Photograph
Publisher, Printer, Photographer: Unknown
Postmark: Not applicable
Collection: Trent D. Pendley
Remark: This English vernacular brick cottage was built on the foundation of the former Cheney Homestead The Maples circa 1932. Edwin Way Teale inherited the property in the center of Furnessville facing the old Michigan Central tracks in 1926. At that time, the two-story Maples residence stood on the property. Edwin's maternal grandparents had purchased The Maples a month after the burning of their antebellum Lone Oak Farm in February 1916. The house had to be moved with the coming of the Dunes Relief Highway (US Highway 20). The house was moved back out of the path of the highway onto a new foundation and all but one of the maple trees that gave the hilltop residence its name were felled. The house is thought to have burned in 1932. Although Edwin and Nellie Teale had lived in the house for a short time, they had moved to Long Island by 1928. Richard and Vera Lewry lived in the house for the next decade, and transferred title to Aura and Marvin Draper who took up residence here circa 1944. Mrs. Mary Cheney (1829-1917) was Edwin's paternal great aunt. A widow since 1901, Mary Cheney sold her home to her sister and brother-in-law Jemima and Edwin Way and stayed in residence until her death the following year. William and Mary Cheney are interred in Furnessville Cemetery.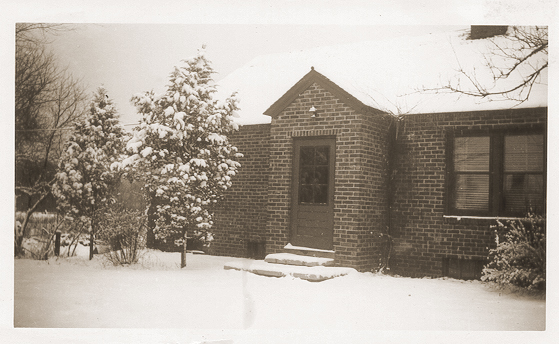 Return to Furnessville Images Index
Return to Porter County Photographs & Historical Images

Please contact the Porter County GenWeb Coordinator if
you can provide any additional information concerning this image.

Image and related text prepared by Steven R. Shook