Historical Images of Porter County
Lewry Family at Lewry Residence
Furnessville, Indiana

Date: Circa 1890
Source Type: Photograph
Publisher, Printer, Photographer: Unknown
Postmark: Not applicable
Collection: Trent D. Pendley
Remark: The William and Sarah Lewry family on the front porch of their 1863 brick home in Furnessville, circa 1890. William and Sarah immigrated to the United States from Brighton, England, in 1855 with their infant daughter Elizabeth. Their son Henry Lewry was born in Chicago in 1858, while all their other children were born in Furnessville. Photographed here are: Furnessville Postmaster Henry Lewry (1858-1939), Carrie Lewry (1866-1935), William Lewry, Sr. (1836-1917), Elizabeth Lewry (1855-1936), Richard David Lewry (1879-1957), Eugene Lewry (1861-1940), Sarah Lewry (1835-1929), Anna M. Lewry (1874-1966), and William Lee Lewry (1862-1945). The eldest two children, Henry and Elizabeth, stayed at the family home their entire lives. Eugene married Polly Sanderson in 1893. She arrived in the dunes from Yorkshire, England, in 1890. They made their home near his parents in Pine Township. William Lee Lewry moved to St. Louis, Missouri, where his parents visited on occasion and for the World's Fair there in 1904. Carrie Lewry married Thomas Edward Morgan of Furnessville and lived at her husband's family homestead. Anna M. Lewry married Professor Eugene Stanton Miller of Valparaiso. Richard D. Lewry married and lived in Chicago. He was the only child to return to England with his parents when they visited Brighton in June through September of 1884. His son, Richard Lewry, would purchase a home in Furnessville and resided there for a period during the 1930s. Richard David Lewry retired to Sault St. Marie, Ontario, and died in Cochrane, Ontario; he is interred on an island in Canada.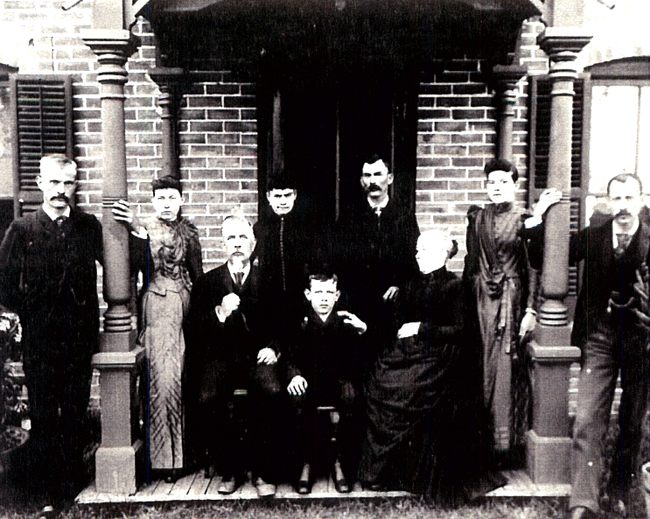 Return to Furnessville Images Index
Return to Porter County Photographs & Historical Images

Please contact the Porter County GenWeb Coordinator if
you can provide any additional information concerning this image.

Image and related text prepared by Steven R. Shook