Historical Images of Porter County
Pavilion & Grounds, Dunes State Park, Ind.
Indiana Dunes State Park

Date: 1930
Source Type: Postcard
Publisher, Printer, Photographer: Unknown
Postmark: July 14, 1930, Chesterton, Indiana
Collection: Steven R. Shook
Remark: This postcard shows the pavilion still under construction. The message on the reverse of the card reads: "At the Dunes, July 14. Would you recognize 'Fish' Johnson's? Not his now, but on his old site; & he down at Sabinsky's. He delivers groceries, milk & humans every day now, by auto on beach. Laura was sick, at Sutherland's cottage, & I got a woman to come out in the night from Chicago & Johnson drove her to the door! Laura better now & gone home. Ask me any questions. Love, Goody."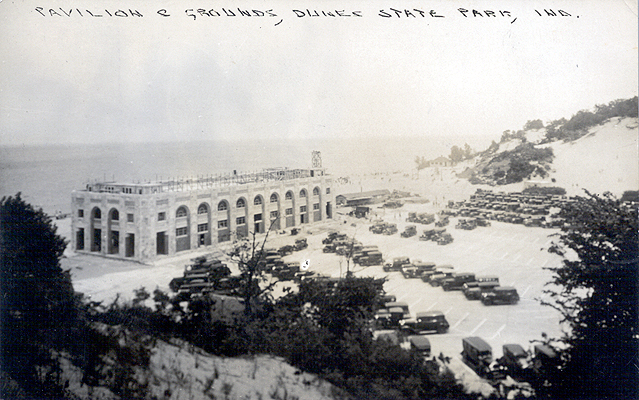 Return to Indiana Dunes State Park, Part 4 Images Index
Return to Porter County Photographs & Historical Images

Please contact the Porter County GenWeb Coordinator if
you can provide any additional information concerning this image.

Image and related text prepared by Steven R. Shook