Historical Images of Porter County
Miniature Steel Mills, Dunes State Park, Indiana
Indiana Dunes State Park

Date: 1931
Source Type: Photograph
Publisher, Printer, Photographer: Unknown
Postmark: Not Applicable
Collection: Steven R. Shook
Remark: It is believed that these miniature steel plant building were used during the Gary, Indiana, Jubilee Pageant in 1931. According to an article published in the June 8, 1931, issue of The Indianapolis News:

"Postponed from Saturday night because of rain, Gary's jubilee pageant, feature of the city's celebration of its twenty-fifth birthday anniversary, will be presented on the lagoon at Marquette park tonight. More than 1,500 persons will take part in the pageant, which has taken approximately $10,000 to produce, and at least 50,000 persons from Gary and the metropolitan area are expected to crowd the shores of the lagoon for the spectacle.

The pageant will depict in pantomime the history of the Calumet district from the time of Marquette's trip across the sand dunes and representatives from fifty-four nationalities comprising Gary's population will take part in the program tonight.

Miniature steel mills built on the shores of the lagoon will send flames shooting skyward during the presentation."

Information Source:
The Indianapolis News, Indianapolis, Marion County, Indiana; June 8, 1931; Volume 62, Number 156, Page 8, Column 1. Column titled "Gary Folk to Hold Postponed Pageant."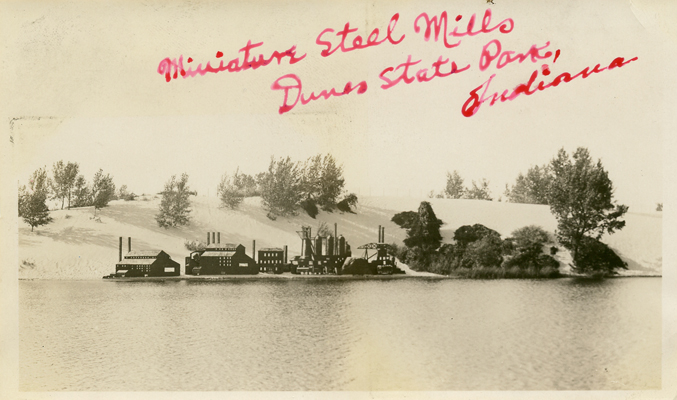 Return to Indiana Dunes State Park, Part 3 Images Index
Return to Porter County Photographs & Historical Images

Please contact the Porter County GenWeb Coordinator if
you can provide any additional information concerning this image.

Image and related text prepared by Steven R. Shook