Drury's Aerial Homestead Images, 1956
Union Township
Clarence Myers
Rt. 4. Valparaiso, 5 acres

Remark: Additional information concerning this property was submitted by Cheryl Myers Higer on July 13, 2013, as follows. "I was looking at old plats for Union Township and ran across the picture taken of the property I grew up on US. 30. This was taken in 1956 and was owned by Clarence E. Myers (Spud) and my mother, Frances E. McKittrick Myers. Both of my parents lived there until the day they died, mom in 1980 and dad in 1990. When I sold the property the appraiser became excited when he went in the crawl space. He showed me that the single story part of the house foundation was built on a log cabin. The basement was walled with field stone. Dad owned 5 acres on which there was a hill and thickets in the pasture area. In the small thicket area in the northwest corner of the property we found arrow heads, clams shells, old medicine bottles etc. All the property was sand."

Source:
Drury, John. 1956. This Is Porter County. Chicago, Illinois: Inland Photo Company. 352 p.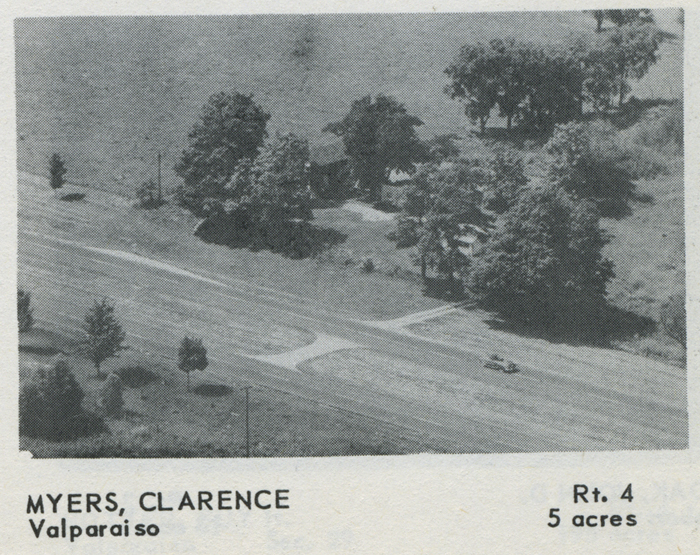 Return to Drury's Aerial Homestead Images of Union Township
Return to Porter County Photographs & Historical Images

Please contact the Porter County GenWeb Coordinator if
you can provide any additional information concerning this image.

Image and related text prepared by Steven R. Shook