Drury's Aerial Homestead Images, 1956
Liberty Township
Alex Metz
Rt. 1, Valparaiso, 105 acres
Rade Dotlich
Remark: Betty Dotlich provided the following information concerning the Rade Dotlich property shown in the image below on June 4, 2013:

Alex and Jenina (They called her Jenny) Metz bought the property in 1950 or 1951 for $25,000 for the entire farm. He bought the property as an investment and as a building site for his new home. A new home was built on the far east edge of the property for Alex and Jenny to live in. He also dug a pond near the new home.

After Alex died, the new home was too big for Jenny to live in alone so she had another home built just to the west of the old farmhouse in the picture, and she lived there for several years. The new home was sold with 20 acres at that time when she moved out of it.

Alex and Jenny never actually lived in the old farmhouse. Jenny's daughter, Dorothy, and her husband, Rade Dotlich, moved into it in about 1953, and they lived there for approximately four years. Jenny's sister, Ceci and her husband, Garrett Stewart, lived in the home with their three boys until about 1967. When they moved out, Jenny's other sister, Sophie, and her husband Walter Shumski moved into the home. Sophie passed away several years before her husband, and Walter lived there until he died in 1992. After Walter's passing, Jenny sold the property. The home to the west was sold separately from the main farm, and a portion of the ground was separated from the original farm and sold as vacant land.

Sometime in the late 1950's between the Dotlich family moving out and the Stewart's moving in, Alex jacked up the house and removed the fieldstone basement/foundation and replaced it with a cinderblock basement. He was a construction contractor by trade, but this was still a big project.

Alex never actually farmed the ground, but rented it to others in the area and they farmed it for him. The family owned the farm until approximately 1990.

The old bank barn to the far right in the picture was removed many years after Alex died around 1971 or 1972.

The grainery/tractor barn to the left of that big barn was still there the last time we saw the property.

The small structure in the very back to the left is the chicken coop.

Source:
Drury, John. 1956. This Is Porter County. Chicago, Illinois: Inland Photo Company. 352 p.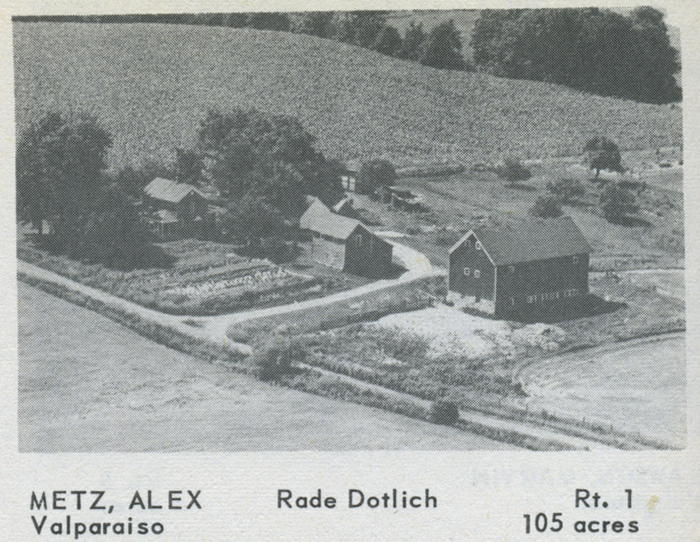 Return to Drury's Aerial Homestead Images of Liberty Township
Return to Porter County Photographs & Historical Images

Please contact the Porter County GenWeb Coordinator if
you can provide any additional information concerning this image.

Image and related text prepared by Steven R. Shook