Historical Images of Porter County
East Road
Crisman, Indiana

Date: Circa 1910
Source Type: Postcard
Publisher, Printer, Photographer: H. D. Scofield
Postmark: None
Collection: Steven R. Shook
Remark: This postcard was produced by Herbert D. Scofield. Scofield was born in Cook County, Illinois, on February 22, 1860, the son of John and Emma (Montrose) Scofield. At the age of seven, Herbert D. Scofield moved to Crisman, Indiana, to learn the agricultural trade under the guidance of Burrill Hall. In 1892, Scofield purchased a small stock of goods and established a merchandise business in Crisman that grew into a well-established and large general store. Beginning in 1893, Scofield served as the postmaster of Crisman. It is possible that the two women seen in this image are Scofield's wife (Mattie Humphrey Scofield) and daughter (Bessie Scofield). Herbert D. Scofield also had five sons - Burl, Lawrence, Howard, Hartzell, and Robert.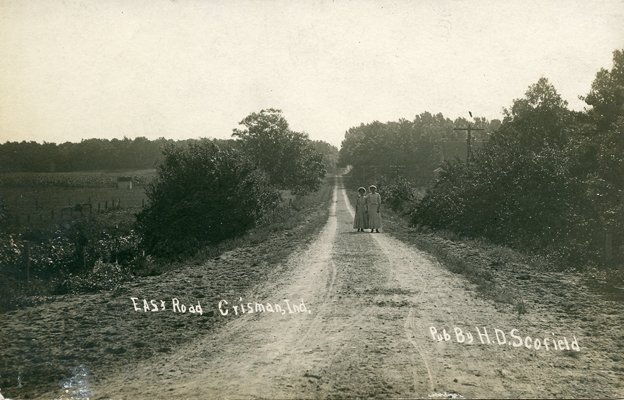 Return to Crisman Images Index
Return to Porter County Photographs & Historical Images

Please contact the Porter County GenWeb Coordinator if
you can provide any additional information concerning this image.

Image and related text prepared by Steven R. Shook