Historical Images of Porter County
Crisman Junior High School, Rt. 1, William Fegely, Principal
Crisman, Indiana

Date: 1956
Source Type: Photograph
Publisher, Printer, Photographer: Drury, John. 1956. This Is Porter County. Chicago, Illinois: Inland Photo Company. 352 p.
Postmark: Not applicable
Collection: Steven R. Shook
Remark: A log school house measuring 18 feet by 24 feet stood on the location where the brick structure seen on the right hand side of this photograph is sited. This log structure was used for about nine years. The first term of school at Crisman was taught by Elder Bartlett, a Baptist minister. Later teachers at this school, in order, included Cyrus Sales, Christina Fry, Emily Gerhart, and Chancey Gaylord. Gaylord was a cripple and the last to teach in the log school. A frame school building followed the log school, and the brick structure seen in the right of this photograph was constructed in 1879. The log, frame, and first brick structures were all constructed on the same location. In January 1909, the Crisman School began providing for high school education; prior to this time, the school district did not provide high school education and local students would have to travel and board elsewhere to achieve a high school education. Around 1919, an addition was made to the brick building. Soon afterward, in 1922, the first gymnasium, a frame building, was built at a cost of approximately $12,000. The school's enrollment then expanded rapidly with the industrialization along the Lake Michigan shoreline, and a new high school physical plant, seen here on the left, was completed in the fall of 1929 at a cost of $90,000 to accommodate this growth.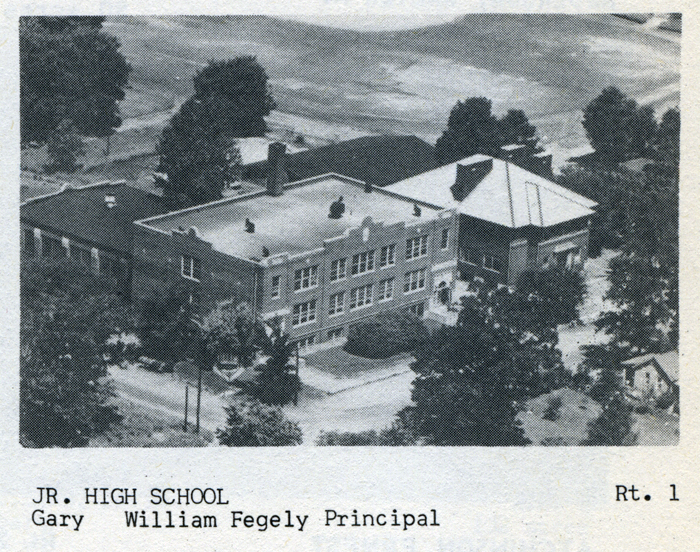 Return to Crisman Images Index
Return to Porter County Photographs & Historical Images

Please contact the Porter County GenWeb Coordinator if
you can provide any additional information concerning this image.

Image and related text prepared by Steven R. Shook