Historical Images of Porter County
Crisman High School, Women's Basketball Team, County Champions
Crisman, Indiana

Date: 1931
Source Type: Photograph
Publisher, Printer, Photographer: 1931 Crisman High School Annual (Portage Township)
Postmark: Not applicable
Collection: Steven R. Shook
Remark: The 1930-1931 Crisman High School women's basketball team. Seated (left to right) are Leila Carlson, Eleanor Anderson, Mildred Wolfe, Muriel Delmage, and Ethel Blair. Standing (left to right) are Frances Sevcik, Marjorie Robbins, Helen Bolles, May Kuhrts, Bertha Jacobs, Verna Lute, and Genevieve Cherry. This team recorded 9 wins, 6 losses, and 2 ties. The text associated with this photographs states the following:

THIS year for the third consecutive time the Girl's Basket Ball Team brought home from the County Tourney the Vidette-Messenger Trophy, a fact which makes that silver basket ball our permanent possession. This victory marked not only the third consecutive championship won by a Portage girl's team but also the fourth since the County Tournament was inaugurated in 1924. Honor enough! But in addition Mildred Wolfe, our captain won the individual award given by Superintendent Cole, a small gold basket ball, which is given to the most outstanding girl player in the tourney. Eleanor Anderson was awarded the blue ribbon for having the best mental attitude of the team. The championship was the happy climax of a season marked by alternate victories and defeat. Only a few players were left from last year around whom as a nucleus was builded a team distinguished for its versatility -- many of the girls played two positions with equal skill: at least four of the girls displayed equal ability as scorers. The girls made a team of whom Portage is justly proud and as a team they leave the challenge to those who succeed them to uphold the reputation they have made.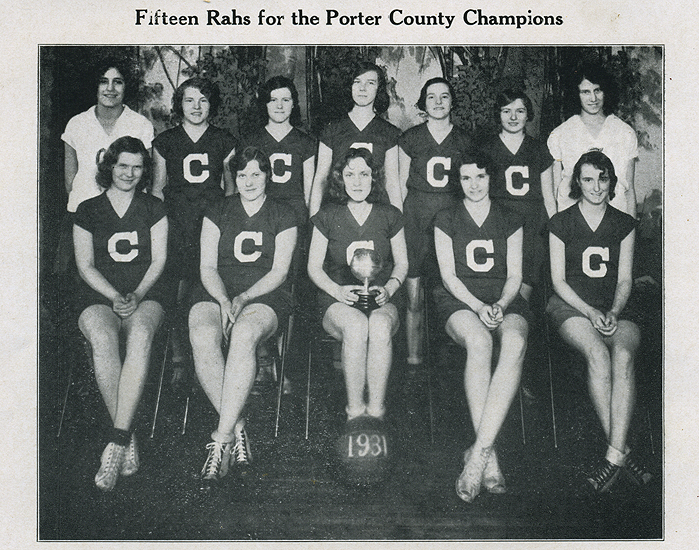 Return to Crisman Images Index
Return to Porter County Photographs & Historical Images

Please contact the Porter County GenWeb Coordinator if
you can provide any additional information concerning this image.

Image and related text prepared by Steven R. Shook