Historical Images of Porter County
Crisman High School, Men's Basketball Team
Crisman, Indiana

Date: 1931
Source Type: Photograph
Publisher, Printer, Photographer: 1931 Crisman High School Annual (Portage Township)
Postmark: Not applicable
Collection: Steven R. Shook
Remark: The 1930-1931 Crisman High School men's basketball team. Seated (left to right) are W. Anderson, G. Hawkinson, W. Cruikshank, L. Norman, and S. Hawkinson. Standing (left to right) are Coach Burrus, C. Clouse, G. Swanson, J. Hord, C. Delmage, and M. McCorkel. This team recorded 10 wins and 18 losses.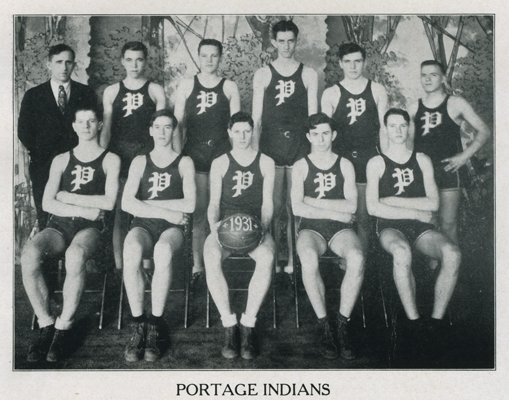 Return to Crisman Images Index
Return to Porter County Photographs & Historical Images

Please contact the Porter County GenWeb Coordinator if
you can provide any additional information concerning this image.

Image and related text prepared by Steven R. Shook