Historical Images of Porter County
Valparaiso & Northern Railway, Track Laid on Broadway Avenue, Looking West
Chesterton, Indiana

Date: November 17, 1909
Source Type: Photograph
Publisher, Printer, Photographer: Air Line News
Postmark: Not applicable
Collection: Steven R. Shook
Remark: The tracks for the Valparaiso & Northern Railway are laid on Broadway Avenue in Chesterton. This photograph, looking west, was taken approximately one block west of Valparaiso Street, now known as South Calumet Road. Note that the overhead trolley wire has not yet been installed when this photograph was taken. Incorporated in August 1908, the Valparaiso & Northern Railway construction was financed by citizens of Valparaiso and outside investors; the railway was to become one of the feeder lines the the Chicago-New York Electric Air Line Railroad. The third building on the left (with the sloped roof) was originally the Central House Hotel and was moved to this location from "City West," a lost town site that was along Lake Michigan located southwest of the present day pavilion at the Indiana Dunes State Park. The structure was moved to the southwest corner of the intersection of Second Street and Broadway. The building later became Eschenbach's Hotel and Restaurant, as well as the drug store and dental office for Arthur E. Nickel.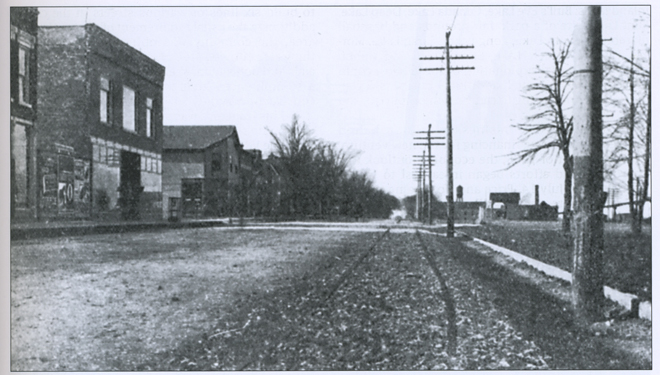 Return to Chesterton Railroad Images Index
Return to Porter County Photographs & Historical Images

Please contact the Porter County GenWeb Coordinator if
you can provide any additional information concerning this image.

Image and related text prepared by Steven R. Shook