Historical Images of Porter County
Asbestos Factory
Chesterton, Indiana

Date: Circa 1911
Source Type: Postcard
Publisher, Printer, Photographer: P. L. Huckins
Postmark: None
Collection: Steven R. Shook
Remark: This photograph shows the Sall Mountain Asbestos Company. The present day location of this image would be west of 15th Street near the Elgin, Joliet & Eastern Railway Company tracks. In 1897, a branch of the Warren Featherbone Company of Three Oaks, Michigan, was established at Porter; it remained in operation only a few years producing items formerly made of whalebone out of the tail and wing feathers from turkeys. The vanes and vexilla from the turkey feathers were used in pillows, upholstery, and cushions. In January 1905, the property passed into the hands of the Sall Mountain Asbestos Company, a manufacturer of rubber and mica roofing, as well as fire-proofing materials. In 1912, Sall Mountain Asbestos Company had 105 employees, making it the largest employer in Porter County. The company ceased operations in Chesterton in 1923.

Between 1990 and 1996, a city park (Jackson Park) was located on this site. The park was permanently closed and play equipment removed when it was discovered that three locations in the park tested positive for asbestos at a depth of six to twelve inches in concentrations as high as 30 percent.

A concrete skate park was installed at the location and opened for use in 2010. A parking lot was also established at the west end of the site to allow better access to the Prairie Duneland Trail.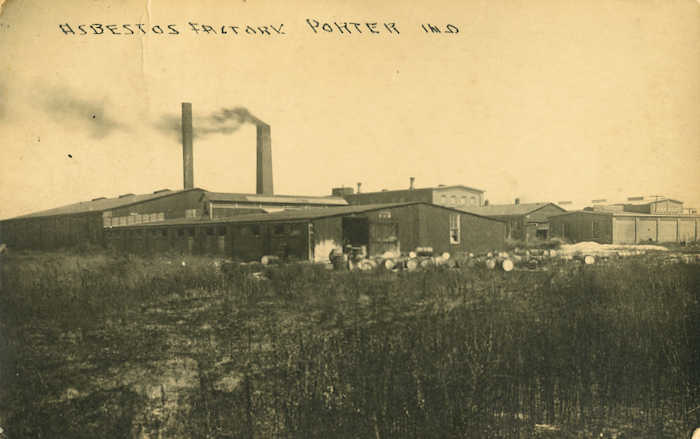 Return to Porter Businesses Images Index
Return to Porter County Photographs & Historical Images

Please contact the Porter County GenWeb Coordinator if
you can provide any additional information concerning this image.

Image and related text prepared by Steven R. Shook