Historical Images of Porter County
Chesterton-Porter Ice Co.
Chesterton, Indiana

Date: Circa 1900
Source Type: Photograph
Publisher, Printer, Photographer: Unknown
Postmark: Not Applicable
Collection: Steven R. Shook
Remark: This photograph was taken at the present day T-intersection of Calumet Road and Broadway Avenue, facing the east side of Calumet Avenue. The building to the left in the photograph was the Chesterton Town Hall and fire station. Both buildings shown in the photograph still stand [2014]. Anton G. Gustafson owned a one-half interest in the Chesterton-Porter Ice Company. Gustafson was born in Westchester Township, Porter County, Indiana, on February 19, 1861, the son of Adolph and Clara (Swanson) Gustafson, natives of Sweden. Anton married Rose Thomas on December 31, 1894, and they had four children: Raymond Thomas, Mildred G., Mary C., and Lois. Anton served as recorder of Porter County, a trustee of Westchester Township, and postmaster of Chesterton.

The sign in the window above the horse's neck states: "MILES ORTON'S 25 CENT SHOWS." The round sign behind the delivery wagon states: "PABST MILWAUKEE, POOL & BILLIARDS." Miles Orton was a circus performer and one of the foremost bareback horse trick riders of his day.

The storefront sign of SARATOGA, J. A. KREIGER was a saloon and billiard hall and saloon. J. A. KREIGER refers to John A. Krieger (notice difference in spelling of surname), owner of the structure.

Interestingly, John A. Krieger was president of the Chesterton Cemetery Association, while Anton G. Gustafson served as that association's secretary in the early 1900s.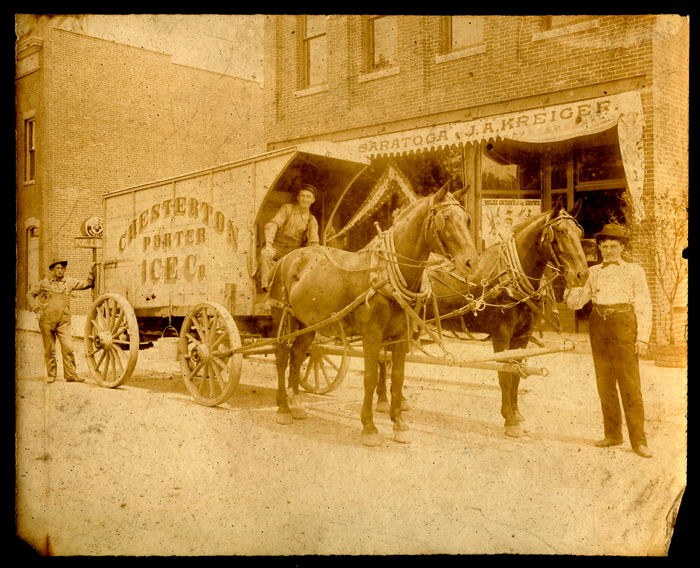 Return to Chesterton Businesses Images Index
Return to Porter County Photographs & Historical Images

Please contact the Porter County GenWeb Coordinator if
you can provide any additional information concerning this image.

Image and related text prepared by Steven R. Shook