Historical Images of Porter County
Chesterton Roller Mills [Blackwell Mill]
Chesterton, Indiana

Date: 1905
Source Type: Newspaper advertisement
Publisher, Printer, Photographer: Unknown
Postmark: Not applicable
Collection: Steven R. Shook
Remark: H. L. Cooper, proprietor. Manufacturer of winter wheat flour, whole wheat flour, Graham flour, rye and buckwheat flour, cornmeal, and feed. Chesterton Roller Mills was a flouring mill located at the northeast corner of present day intersection of Calumet Avenue and Porter Avenue in Chesterton. Coffee Creek ran east of the mill and provided the mill's source of power. The mill site was originally called Ingraham's Mill after Daniel P. Ingraham, who established the mill site on what later would be referred to as Lot 4 of Block 4 in the Quick's Addition. Ingraham was extensively engaged in the stumpage and lumber business in the townships of Jackson, Liberty, and Westchester. Thomas Blackwell purchased the milling business in December 1875, and the mill's name was changed to Blackwell's Mill. During Blackwell's ownership, the mill included a three-run grist operation, a sawmill, a planar mill, a matcher, and machine shop, which was valued at more than $2,000 in 1882.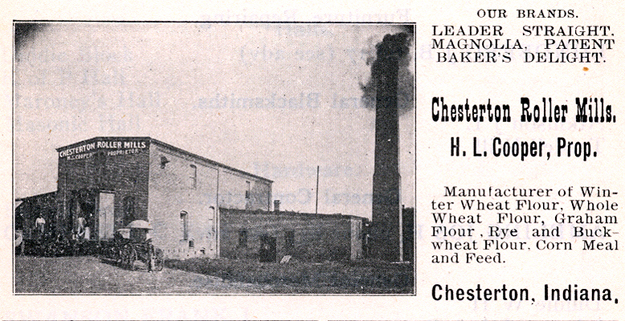 Return to Chesterton Businesses Images Index
Return to Porter County Photographs & Historical Images

Please contact the Porter County GenWeb Coordinator if
you can provide any additional information concerning this image.

Image and related text prepared by Steven R. Shook