Historical Images of Porter County
ARMCO-FERRO. Porcelain Enamel Frameless Steel House. A Century of Progress 1934. The Mayflower House
Beverly Shores, Indiana

Date: 1934
Source Type: Postcard
Publisher, Printer, Photographer: Insulated Steel Construction Company
Postmark: None
Collection: Steven R. Shook
Remark: The Armco-Ferro House is along the shores of Lake Michigan in the Porter County, Indiana, community of Beverly Shores and is owned by the federal government under the National Park Service. The home was constructed in 1933 as part of the Homes of Tomorrow Exhibition during the 1933 World's Fair (Century of Progress) that took place in Chicago. Today, it is part of the Century of Progress Architectural District, a historic district. The Homes of Tomorrow Exhibition included design criteria that required that homes exhibited be affordable for the average American family and that they could be mass produced; the Armco-Ferro House is the only remaining house from the fair that met those design criteria. The home was constructed with corrugated steel panels that were bolted together. The steel panels were manufactured by the Ferro Enamel Corporation and included a porcelain enameled finish. The home was moved to its current location in Beverly Shores by real estate developer Robert Bartlett. Bartlett, who wanted to establish a resort community in the area complete with a golf course, hotel, and botanical garden, was responsible for moving six of the exhibition's homes to the area, brought to Beverly Shores by barge in 1935. The Armco-Ferro House, along with four other exhibition homes from 1933, were added to the National Register of Historic Places in 1986, collectively known as the "World's Fair Houses." The other five homes are scattered around Beverly Shores; four of them are close neighbors of the Armco-Ferro House.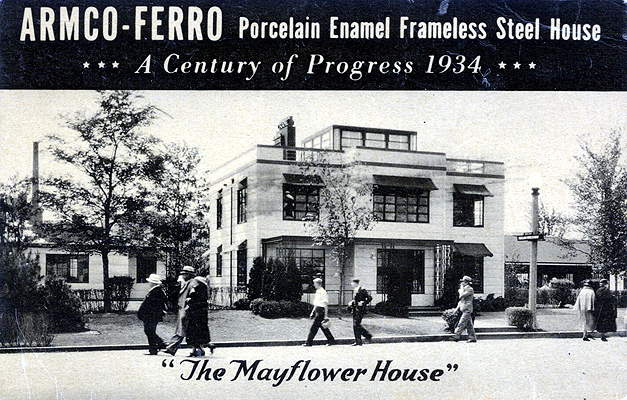 Return to Beverly Shores Images Index
Return to Porter County Photographs & Historical Images

Please contact the Porter County GenWeb Coordinator if
you can provide any additional information concerning this image.

Image and related text prepared by Steven R. Shook