Historical Images of Porter County
Weiboldt-Rostone House, Century of Progress
Beverly Shores, Indiana

Date: 1935
Source Type: Photograph
Publisher, Printer, Photographer: U.S. Library of Congress
Postmark: Not applicable
Collection: Historic American Buildings Survey
Remark: Designed by Lafayette, Indiana, architect Waler Scholer, the Wieboldt-Rostone House was exhibited at the Century of Progress World's Fair. At the conclusion of the the exhibition, the house was transported by barge to Beverly Shores, Indiana, and located onto a site on the north side of Lake Front Drive, just east of Dunbar Avenue. The house was framed in steel and sided with an experimental cladding called Rostone; Rostone was a material composed of alkali, limestone, and shale that could be produced in a variety of colors and forms (e.g., slabs and panels) to exact dimensions. Rostone did not weather well, and the Rostone on the Weiboldt-Rostone House was severely deteriorated by the 1950s. A concrete stucco material referred to as Perma-stone was used to cover over the deteriorating Rostone.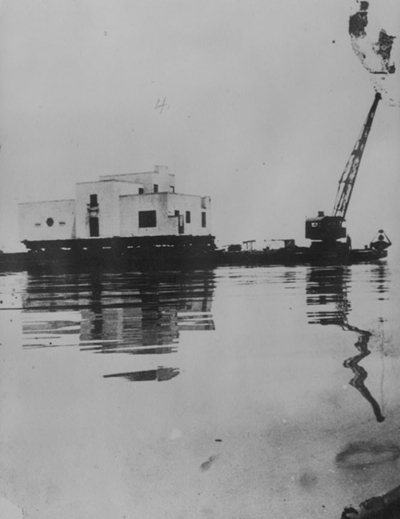 Return to Beverly Shores Images Index
Return to Porter County Photographs & Historical Images

Please contact the Porter County GenWeb Coordinator if
you can provide any additional information concerning this image.

Image and related text prepared by Steven R. Shook