Historical Images of Porter County
The House of Tomorrow
Beverly Shores, Indiana

Date: 1933
Source Type: Postcard
Publisher, Printer, Photographer: Reuben H. Donnelley Company
Postmark: None
Collection: Steven R. Shook
Remark: The House of Tomorrow is along the shores of Lake Michigan in the Porter County, Indiana, community of Beverly Shores and is owned by the federal government under the National Park Service. The home was constructed in 1933 as part of the Homes of Tomorrow Exhibition during the 1933 World's Fair (Century of Progress) that took place in Chicago. Today, it is part of the Century of Progress Architectural District, a historic district. The House of Tomorrow was designed by Chicago architect George Fred Keck. The ground floor provided a service area containing a vehicle garage and an airplane hangar. The second and third floors provided the living area of the home, which included a solarium. The structure was steel-framed and clad in glass on the second and third floors. When the home was designed and constructed, engineers stated that the extensive use of glass cladding would make the home impossible to heat. Instead, the passive solar heat gain reduced the need for mechanical heating. The solar gain during the summer months, however, was so great that the air-conditioning system could not overcome it and failed. The home was moved to its current location in Beverly Shores by real estate developer Robert Bartlett. Bartlett, who wanted to establish a resort community in the area complete with a golf course, hotel, and botanical garden, was responsible for moving six of the exhibition's homes to the area, brought to Beverly Shores by barge in 1935. Bartlett had the home glass cladding replaced with operable windows to allow for proper air circulation. The House of Tomorrow, along with four other exhibition homes from 1933, were added to the National Register of Historic Places in 1986, collectively known as the "World's Fair Houses." The other five homes are scattered around Beverly Shores; four of them are close neighbors of the House of Tomorrow.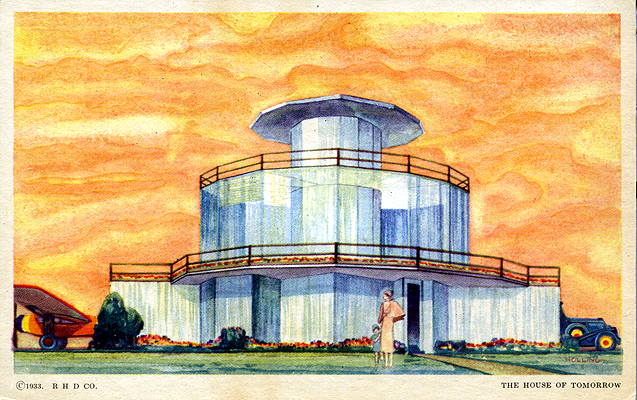 Return to Beverly Shores Images Index
Return to Porter County Photographs & Historical Images

Please contact the Porter County GenWeb Coordinator if
you can provide any additional information concerning this image.

Image and related text prepared by Steven R. Shook